Getting Out of Grover's Tub
Chapter 5: Grover U.
"It's mighty reckless to mess with Texas."  Many of us remember Johnny Dee & The Rocket 88's singing those now-famous lyrics when the "Don't Mess with Texas" campaign launched in 1986.  
The message was clear—don't trash the Lone Star State.  But today, over twenty years later, we know more than a few dared and some, sadly, succeeded.  
These polluters didn't trash us with garbage on the road.  They did it through a subtler, more complete way: winner-take-all, scorched-earth politics.  For over twenty years, these individuals promised honest, hard-working Texans one thing for a vote, and then gave us another.    
In 1960 Barry Goldwater said: "I have little interest in streamlining government or making it more efficient….my aim is not to pass laws but to repeal them."  His line was repeated next by Ronald Reagan, then most recently by Grover Norquist, whose vision is even more vivid than all the rest: his "goal is to cut government in half in twenty-five years to get it down to the size where we can drown it in the bathtub."
Well, Norquist ought to be proud of himself.  He did it.  We're drowning.
In agency after agency, irresponsible under-funding, repeated firing of career public servants, and consistent appointing of incompetent leadership have left entire departments fundamentally unprepared to govern and succeed against the challenges of a 21st century Texas.
So, let's talk about Grover and higher education.  With an expected population of 50 million by 2040, the future of our state will be defined by the education of our people.  
Across the political spectrum nearly every thoughtful elected leader will say to his public that in a 21st Century knowledge-based economy Texans must compete and that education is the key to competition, jobs and prosperity.
So, how do Grover's disciples compete in higher education in Texas today?
One measure is the number of universities that have achieved Tier One status. While the term "Tier One" is not specifically defined, a total of $100 million in annual research expenditures is often cited as the benchmark.  Based on a report from the Center for Measuring University Performance, the largest U.S. state, California, has eight Tier One public universities that serve undergraduate students.  Texas, the second largest state, has only two: UT-Austin and Texas A&M.
How did this happen? In 2003, Rick Perry decided that the best way to address a state budget deficit and deliver an enormous tax break to the wealthiest Texans would be twofold: cut the inheritance tax and then hike tuition.
Since 1917, Texas has had an inheritance tax. The tax is paid only by those who have died and have an estate worth more than a million dollars. In 2003, that tax paid the treasury $334 million to use for higher education and good schools.  Republican leadership refused to act on legislation to keep this vital source of funding alive.  Instead, they chose to raise dramatically the cost of attending higher education through tuition deregulation.
What has been the result of tuition deregulation? 
Skyrocketing prices to Texas' students and their families.  From fall 2003 to fall 2007, total academic charges at UT-Dallas have gone up 66 percent; at UT-San Antonio, 63 percent.  Meanwhile, prices continue to rise.  In March 2008, the UT Board of Regents approved tuition and fee rates for the next two years, once again increasing the cost of higher education.  As a result, fall 2009's total academic charges at UT-El Paso will be over 73 percent higher than fall 2003.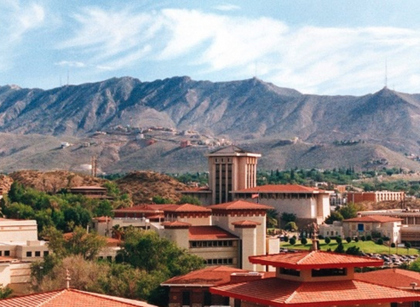 University of Texas at El Paso
At the same time that tuition has soared, state funding for higher education has decreased and grant programs have failed to keep pace with the state's needs.  At UT System institutions, inflation-adjusted state appropriations per fulltime equivalent student have decreased, on average, 17 percent from 2001 to 2006. 
The declining state appropriation has impacted higher education on a statewide level.  
Take UT-Austin, often considered a crown jewel of higher education in Texas.  Within a 12-member national comparison group, UT-Austin ranks ninth in per student funding from tuition and state general revenue.  Simply put, other states are better at supporting their universities.  The University of Minnesota, for example, has $6,000 more per student than UT-Austin; the University of North Carolina, $6,500 more; and UCLA, $7,500 more.
Now let's compare two Midwest universities—one in Texas and one in Iowa—both striving to compete in a knowledge-based world. In nearly every state, universities are the keys to jobs—research today unlocks the potential of tomorrow. Take a look at the University of Iowa, with just over 30,000 students. In 2008, Iowa lawmakers appropriated $348 million in state money to support and run the University. Now let's take Texas Tech University in Lubbock, nearly the same size with 28,000 students. Tech received $164 million in fiscal year 2008. Over the course of ten years, at that level of support, Tech would get $1.84 billion less than Iowa.  
How do we expect Tech to compete? 
What's worse, Tech isn't alone.  To put it bluntly, leadership in Austin does not place the appropriate value on ensuring Texas' competitiveness in higher education.  The Higher Education Coordinating Board recently compared the average fiscal year 2006-07 state appropriations per full time student equivalent for the seven emerging research universities in Texas to their peer national research institutions in other states such as the Universities of Buffalo, Arizona, Kansas, Maryland, Missouri, Nebraska, and Wisconsin.  That Texas has essentially lowered expectations by comparing to peers like Buffalo and not Michigan is a story in itself.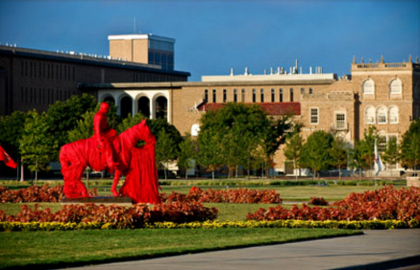 Texas Tech University
The Coordinating Board estimated that the average 2006-07 state appropriations for the seven Texas universities was $5,160, while the average for the peer institutions was $11,867—an astounding difference of $6,707.  How can we expect the seven to compete nationally when the Legislature is forcing them to fight for talent and research funding with such dramatic disposition in funding?  Even with recent Tier One legislation, at current funding levels, Texas Higher Education Coordinating Board Commissioner Raymund Paredes said achieving Tier One status is 20 to 40 years away.
 
One result of this underfunding is that Texas' public and private universities have 52 members of the National Academy of Sciences (NAS), while California's have an astounding 625.  In 2008, state appropriations per full time student equivalent at the University of California-Berkeley, the crown jewel of the UC system, was $13,857, compared to $6,576 at UT-Austin.  This helps explain why Berkeley currently has 127 members in the NAS to UT-Austin's 15.
Funding for financial aid programs have also failed to keep up with the enormous growth in tuition.  The TEXAS Grant program has served as a successful financial aid tool for Texas students in financial need.   However, due to inadequate funding, the Texas Higher Education Coordinating Board estimates that even with 81st Legislative Session funding increases, more than half of eligible students will not be served by the program in 2009.  
If Texas does not choose to invest in its future, our state will continue to fall behind.  Rick Perry's own commission, the Select Commission on Higher Education and Global Competitiveness, stated bluntly:
"Texas is not globally competitive.  The state faces a downward spiral in both quality of life and economic competitiveness if it fails to educate more of its growing population (both young and adults) to higher levels of attainment, knowledge and skills.  The rate at which educational capital is currently being developed is woefully inadequate.  Texas also needs an innovation-based economy in all the state's regions that can fully employ a more capable workforce.  It must generate more external research funding, and commercialize ideas and intellectual property at a volume substantially greater than currently taking place."
What do we do? Right now, Texans face a choice. Do we want another decade of Government by Grover, whose goal is to destroy our state's government? 
Or do we want responsible leaders who will make the hard choices to take Texas into the 21st Century?  
We can't afford to let anyone mess with Texas again.  Our children, our future, and our state deserve better.