"RED INK IN THE RED STATE"
January 7, 2010
"It's simply political fiction that stimulus dollars were necessary to balance our budget." - Texas Lieutenant Governor David Dewhurst, Austin American - Statesman, October 21, 2009."
"In order to balance the budget this biennium, which is $182 billion, we used $14 billion in federal stimulus money to balance it." - Senate Finance Committee Chairman, Senator Steve Ogden (R - Bryan), Fort Worth Business Press, October 19, 2009."
Written by Senator Eliot Shapleigh, www.shapleigh.org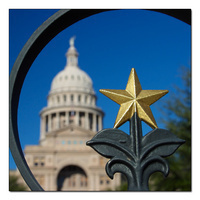 What's going on in Austin? Who do you believe? When the Senate Finance Chair says one thing and the Lieutenant Governor says another, what's political cover and what's the truth? In 2009, Governor Rick Perry got a bunch of ink bragging about Texas budgets—but come 2011, the truth is that Perry's budget malpractice will strap Texans with an enormous deficit.
Let's go back to 2005, when it all started. Responding to Texas Supreme Court rulings that the school finance system was unconstitutional, Rick Perry engineered a tax swap scheme that failed. Back then, Perry recruited former Texas Comptroller John Sharp to sell his business income tax. His pitch was this: we will lower your school property taxes by 50 cents and make up the difference mostly with a business income tax on businesses that aren't paying now.
In signing the bill, Perry said "[t]oday I am proud to sign into law landmark business tax reforms that will provide greater fairness for employers, reliable funding for our school classrooms, and revenue that will help deliver a record $15.7 billion property tax cut for the people of Texas."
What really happened? The truth is that taxes went up for everyone except the wealthiest 20 percent of Texans, and the resulting tax swap strapped the state with a structural budget deficit of almost $ 10 billion in the 2007 session. In short, the new money from the business tax wasn't enough to pay for the property tax cut. The business tax failed because too many businesses didn't pay up and the tax only generated $5 billion compared to the $14 billion biennial cost of the tax cut. Perry's "revenue neutral" promise did not pan out, which will create a deficit which some predict to reach up to $20 billion dollars by the 2011 session.
In 2009, budget writers filled the hole by using $14 billion in federal stimulus money to balance the budget. Despite what Rick Perry wants you to believe, out of 35 states that used federal stimulus funds to balance their budgets, Texas relied most heavily on it, using President Obama's funding to fill 96.7 percent of its budget gap.
Chances are that Barack Obama will not rescue Rick Perry next session, and on January 1st, 2011, Texas lawmakers will start the budget process with one of the largest deficits since the Great Depression.
Other than budget malpractice, what drives the Texas deficit is the steep decline in sales tax revenues. In late 2008, Republican budget writers built the budget using the Budget Revenue Estimate (BRE), which assumed that there would be a 2.9 percent biennial increase in General Revenue (GR) sales taxes, roughly about $1.2 billion more. By November 2009, the Comptroller announced that sales tax and natural gas tax collections were more than $1 billion short of what was projected in the 2009 fiscal year.
Then, in December 2009, the Comptroller stated that the state collected $1.7 billion in sales taxes in November 2009, down 14.4 percent compared to November 2008. In the Comptroller's press release, she states, "sales tax collections, declining since February 2009, continued to be weak in November. Compared to a year ago, sales tax collections were down across all major sectors of the Texas economy, including oil and natural gas production, construction, manufacturing and retail trade." Three months into the current fiscal year, sales tax collections are down 13 percent compared to the first three months of fiscal year 2009. If this trend continues for the remainder of the year, it would translate to a $2.7 billion loss in sales tax collections.
On the spending side, Republican budget writers significantly underestimated Medicaid and food stamp caseloads. Before the 2009 session began, the Health and Human Services Commission (HHSC) estimated that $3.7 billion in additional general revenue (GR) was needed for Medicaid current services caseload and cost growth in 2010-11. The funds allocated for Medicaid in the final budget were $2.5 billion short of this amount—well below current services levels. Actual cuts to Medicaid for 2010-11 were avoided primarily because of the temporarily higher match rate in the federal stimulus package because of lowball assumptions about caseloads and costs that will require a supplemental appropriation for Medicaid before the end of fiscal 2011, possibly $1 billion in GR.
Here's another sobering fact: these spending numbers do not include new public school students, increased enrollment in community colleges due to job insecurity, and thousands of new CHIP applicants weathering the current economic recession.
Finally, both Governor Perry and Lieutenant Governor David Dewhurst ignored the persistent warnings from the Chairman of the Senate Transportation committee, Senator John Carona (R- Dallas), and TxDOT Commission Chair Diedre Delisi. In a letter dated April 23, 2009, during the middle of the last legislative session, Ms. Delisi, who had been appointed by Perry to Chair the Commission, stated that TxDOT would be flat out of money by the first quarter of 2012. However, both the Governor and Lt. Governor Dewhurst have refused to support any new revenues to build highways with either local option or gas tax options.
Why is Texas in this mess? Here's why—failed leadership. Perry and Dewhurst are wedded to a failed ideology that does not responsibly address budget issues or state needs. Recently, despite TxDOT's funding crisis, the Lieutenant Governor ruled out any increase in gas taxes, which Chairman Carona says is the only way to raise the revenues needed to build highways. Instead, Dewhurst wants to create "sales tax zones" on new highways. Under this scheme, he will carve out future sales taxes from the most valuable corridors in the state, bond against future sales tax revenues, then add that debt to TxDOT's credit card. That plan serves candidates on ballots now, but fails you and your grandchildren later. Future generations (and new Lieutenant Governors) will have to deal with the loss of these sales tax revenues for critical needs like your neighborhood public school.
Before New Year's Day 2011, Texans need real numbers on red ink, and real leaders to deal with responsible budgets.


Related Stories