TOP TEN THINGS RICK PERRY CAN DO TO BE PRODUCTIVE ON BORDER SECURITY ISSUES
May 18, 2010
In D.C., Presidents Obama and Calderon will meet soon on historic reforms to Border security, mobility and jobs. Texas is best served if Perry is at the table and working on good policy and better solutions, not more pandering to extremists."
Written by Senator Eliot Shapleigh, www.shapleigh.org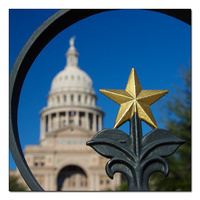 Rick Perry's record on Border security comes down to cameras: a few cameras connected to the internet, and press conference cameras every time he comes to El Paso. When Perry comes to El Paso for press conferences on "border security," he poses by helicopters, makes tough comments on "aliens," and then he goes back to Austin. Responsible leaders speak honestly about real threats and then deal with the threats using effective tactics. Conflating violent drug cartels in Juarez with undocumented immigrants from Mexico, confusing the facts to create fear, and pandering to extremists to win primaries is not responsible leadership.
What are the facts—and what is Rick Perry's real record on Border security?
Here are the real facts. During the past ten years, the overwhelming emphasis in U.S. immigration policy has been on Border enforcement, primarily on the U.S.-Mexican border. Congress has more than tripled spending for Border enforcement activities since 1993. For Fiscal Year 2009, 17,399 Border Patrol agents were deployed on the U.S.-Mexico border. In comparison, only 1,798 Border Patrol agents were deployed on the U.S.-Canada border.
Border crossings by undocumented immigrants have declined sharply over the past decade with more Border Patrol "boots on the ground." Along the 2,000 mile border with Mexico, with these additional Border Patrol agents on duty, apprehensions of would-be immigrants have dropped from a peak of 1.8 million in Fiscal Year 2000 to 556,000 in Fiscal Year 2009—a 31 percent decrease. Also, "the great recession" has had an impact.
How safe are Border cities? San Diego and El Paso are among the safest big cities in America. For the better part of the last decade, only Honolulu has had a lower violent crime rate than El Paso (El Paso slipped to third last year, behind New York). There were just 18 murders in El Paso last year, in a county of 736,000 people. To compare, Baltimore, a city with 637,000 residents, had 234 killings. In fact, since 2008, there were nearly as many El Pasoans murdered while visiting Juarez (20) than there were murdered in their hometown (23). The fact is that affiliated gangs are now in nearly every major American city marketing retail drugs, and certainly, El Paso is no different.
Where do we need the help? Texas needs a 21st century crime fighting DPS. In New York in the 1980s, local, state and federal law enforcement worked together to take down Sicilian mafia dealing in heroin on the streets of New York. Today, Texas is faced with the same international crime enterprise, but DPS does not have the resources to do the job. Perry has had a decade to invest in the Department of Public Safety (DPS), which is the only Texas agency with statewide authority to help Border communities along trade corridors with cartels and criminal enterprise. Due to Perry's failed leadership, DPS was so understaffed that cameras and patrols did not protect Perry's own Governor's Mansion from arson.
Further, state and federal monies that are targeted to Border security are diverted by Perry to other cities. Here are ten things that Perry can do to be productive in fighting cartels along the Camino Real corridor:
1. Turn off the cameras, stick to the facts and get to the table. In Mexico City, on March 23rd, the U.S. and Mexico launched the foundation of a 21st Century bilateral relation known as "Beyond Merida." After months of consultation with the Calderon administration and joined by several Obama cabinet members and top national security advisers, including Defense Secretary Robert Gates, Homeland Security Secretary Janet Napolitano, and Adm. Mike Mullen, chairman of the Joint Chiefs of Staff, Secretary of State Clinton announced four new pillar policies that redefine U.S.-Mexico bilateral relations. These policies are based on: disrupting the capacity of organized crime to operate, institutionalizing capacity to sustain the rule of law, creating a 21st century Border structure, and building strong and resilient communities.
2. Direct a much greater percentage of Department of Homeland Security grant funding to the Border region. Recent reports indicate that Perry has directed less than ten percent of Department of Homeland Security (DHS) grant funding to the Border region each year. Perry's own rhetoric indicates that he considers the Border a critical region, and he contends that the federal government has failed in its duty to fund sufficient resources and secure our homeland along the Texas-Mexico border. What he fails to point out is that he, as Governor, has discretion on how to spend some of those federal monies. In April, a group of Border Congressmen called on Perry to send more of the federal funds given to the state of Texas to Border communities. The Congressmen noted that Texas has received an average of $125 million annually in DHS funding since 2006. And yet, Perry has consistently sent less than ten percent of those funds to Border law enforcement agencies where they are most needed.
3. Take the Texas Border security appropriations that DPS and Perry's emergency management division have and apply it in Border counties, not Austin. According to a 2009 State Auditor's report, Perry spent more than $79 million in state and federal Border security money from September 2005 through November 2008. According to the State Auditor's report, DPS "generally" complied with expenditure guidelines for the more than $33 million it spent to hire officers and buy helicopters, cars and other equipment for Border operations. However, not all of the money went to the Border, and DPS failed to build a $1 million Border security training center that legislators authorized for the Rio Grande Valley. According to the audit, DPS used $15 million to buy four helicopters that were supposed to be stationed along the Border. Three of the new helicopters went directly to the Border, including one in El Paso County. But, the fourth helicopter, which cost $7.4 million, remained in Austin while DPS sent an older aircraft to Laredo. In addition, the audit shows that DPS bought 105 new cars using about $2.2 million in Border security money. Instead of putting those vehicles on the Border, DPS sent 106 older cars to Border counties and assigned the new ones to other places across the state.
4. Turn DPS into a 21st century crime fighting agency. Perry has had ten years to do this—time is wasting. DPS is spinning its wheels in the aftermath of a pileup that saw the Governor's Mansion burn, two directors fired, and an 18-month-old statewide reorganization plan that is still nowhere near completion. In the middle of all that, the state's top law enforcement agency has been tasked to keep Mexico's drug violence from rampaging across the Border.

Things started breaking down with the still unsolved June 2008 arson at the Governor's mansion, which was guarded by DPS troopers, and then Director Thomas Davis' resignation two months later. Successor Stanley Clark resigned in May last year amid sexual harassment allegations and was replaced by former FBI Agent Steve McCraw, who cut the number of DPS regions from eight to six. Last September, McCraw announced the commissioning of Texas Rangers Company K at El Paso. Today, El Paso is still waiting for a DPS headquarters building and the Rangers Company.
5. Beef up DPS' forensic capacity in the nineteen Border counties now. What works best to take down cartels is capturing cartel leaders, forfeiting cartel assets, and sharing information across crime fighting teams. DPS does not have the resources to do this in Texas today. According to DPS, the agency has experienced an increased turnover rate in specific critical staff and support positions, including research specialists/crime analysts. But, on February 2010, DPS proposed slashing almost half the $22 million set aside to fund overtime hours for local law enforcement agencies and recommended eliminating money to purchase 41 new squad cars for the Border region. The suggestions come under a mandate from Perry for all state agencies to come up with ways to slash their budgets by five percent. However, cutting back on Border spending could drastically impact the resources available to many of the region's rural police agencies that depend on state and federal grant money to fund their operations. Right now is not the time to cut DPS' Border budget.
6. Create a prison intelligence unit at DPS now. In recent years, criminal street gangs have become an increasing problem in Texas. Gang activity has grown in cities and rural areas, and cartel-style gangs, which were based along the Border with Mexico in the past, have moved into Texas. Today, there are at least nine "well established" gangs in the U.S. that work from inside prisons, with operators in the streets and links with local and Border police who facilitate their drug trafficking.
In Texas, at least five regional gangs have increased their capacity to distribute illegal drugs: the "Fresno Bull Dogs," "Florencia 13," "Tango Blast," "Latin Disciples," and "United Blood Nation."
The criminal activities of these organizations, which operate inside and outside Texas' prisons, include drug trafficking, extortion, kidnappings, sexual assault and murder. In El Paso, there is a direct link between the drug cartels and the gangs, especially with the one known as "Barrio Azteca."
What is lacking now in the DPS organizational chart is a prison intelligence unit that delivers intelligence from inside the prisons to detectives working the streets in places like El Paso. Without this "actionable intelligence," law enforcement is hamstrung in gathering the intelligence that is already in the prisons, and clearly available to law enforcement.
7. Fuse the fusion centers. Fusion centers gather data and intelligence within agencies targeting certain illegal activities. In El Paso, we count seven fusion centers; local, state and federal law enforcement must share actionable intelligence on the streets among trusted police agents. Having that information in a "silo" will not lead to the arrests and forfeitures that successful cartel interdiction initiatives must have.
8. File suit against money launderers in Texas, find crime enterprise assets and forfeit them now. In Arizona, the Attorney General and Western Union reached a $94 million settlement agreement, which will provide substantial new resources for law enforcement authorities in the four Southwest Border states to combat illegal activity along the entire U.S.-Mexico border. Under the agreement, Western Union will pay $21 million to the State of Arizona and contribute $50 million to the Center for State Enforcement of Antitrust and Consumer Protection Laws, Inc., a not-for-profit organization whose mission is to enhance effective law enforcement using states' respective Office of the Attorney General. The company also will commit $19 million over the next several years to strengthen its own anti-money laundering effort and will provide $4 million to support an independent monitoring program.
The $50 million will be available through a grant process for law enforcement agencies throughout the U.S.-Mexican border to fund money laundering, human trafficking, drug smuggling and arms trafficking investigations and prosecutions. In addition, the funds will support law enforcement training efforts in the United States and in Mexico to help reduce money laundering. Grant applications will be evaluated by representatives of the Offices of Attorney General in Arizona, California, New Mexico, and Texas as well as representatives from the Arizona Department of Public Safety, the Arizona Department of Financial Institutions, and the Phoenix Police Department.
Providing the money and information available in this agreement is a major step in improving Arizona's ability to crack down on drug cartels and organized Border crime. Attacking the flow of illicit funds from the United States to smuggling cartels in Mexico is fundamental to the goal of eliminating the cartels.
Over the past decade, consumer-to-consumer money transfers have become more prevalent. While most transactions are legitimate, some services provided by money transmitters have been abused by people involved in illegal activity.
In sum, as part of the settlement with Arizona, Western Union has agreed to:
A. Enhance its anti-money laundering program in the Southwest Border Area, which is expected to involve the expenditure of an additional $19 million over the next several years.
B. The appointment of an independent monitor by the Maricopa County Superior Court to oversee Western Union's anti-money laundering efforts in the Southwest Border area over the next two-and-a-half to three-and-a-half years, funded with $4 million paid by Western Union.
C. A payment of $21 million to reimburse the Arizona Attorney General's Office, the Arizona Department of Public Safety and the Phoenix Police Department for the expenses they incurred in investigating activity by Western Union and its agents.
9. Direct DPS to work with local municipalities and federal agencies to interdict guns and cash going south. The business model of the Juarez cartel is to move marijuana, heroin, cocaine, methamphetamines and human sex trafficking north and cash and guns south. Interdicting guns and cash will help disrupt and dismantle cartel operations.
More than 90 percent of the guns recovered in Mexico come from the United States. In 2008, according to the GAO, the Mexican government seized a total of 30,000 firearms. and 7,200 were submitted to the Bureau of Alcohol, Tobacco, Firearms, and Explosives (ATF) for tracing. Of those 7,200 firearms, 6,700 were confirmed to have originated in the United States.
Approximately 6,600 licensed gun dealers are in business in Border states; these dealers hold numerous gun shows, and a laxity exists with which high-powered weapons can be acquired. A senior U.S. official testified before Congress that the U.S. was essentially in the business of operating an unregulated arms bazaar, which is at the easy disposal of the Mexican cartels.
Finally, in terms of cash, around $10 billion is smuggled across the Border every year.
Right now, Perry should be negotiating with the Obama administration to utilize Texas resources. We need to provide the U.S. Customs Border and Protection Agency with an enhanced capability to combat southbound firearms and currency smugglers through additional personnel at and between the ports of entry and along the southern border.
10. Work with Congress to restore funding for the Southwest Border Prosecution Initiative, which reimburses local government entities for costs related to prosecution and detention of drug traffickers and other violent offenders, in the 2011 budget. The Southwest Border Prosecution Initiative (SWBPI) reimburses state, county, parish, tribal and municipal governments for costs associated with the prosecution and pre-trial detention of federally-initiated criminal cases declined by local offices of the United States Attorneys. The program received $31 million in Fiscal Year 2010. Over the last seven years, Texas has received $49.8 million in SWBPI funding to provide local law enforcement agencies with resources to prosecute drug trafficking and violent crime cases that were initiated federally but referred to local jurisdictions.
This funding is critical for local law enforcement in our Border communities. To expect the locals to bear the cost of prosecuting crimes under federal law is a travesty when you consider that the Texas Border region is perhaps the poorest area in the country. The tax base along the Border simply does not have the necessary resources to address this issue. In fact, with a per capita income of $17,786, a median household income of $37,600, and only 1.8 percent of households with incomes of $200,000 or more, El Paso ranked 389 out of 420 American cities with a population greater than 75,000. Now more than ever, as cartel and drug-related violence escalates, we need to give our local law enforcement every resource they need to keep Texas families and children safe.
With a 1200-mile Border with four Mexican states, here are steps that Perry can take today to secure the Border and create jobs:
· activate a never-funded Texas-Mexico Commission to prioritize ports, enhance and secure trade, and fund technology solutions to keep Texas safe and prosperous;
· build one-stop truck inspection stations in new Border ports;
· organize law enforcement trainings such as those in Arizona or Idaho; and
· pass manufacturing tax credits that have sat on his desk for four years to anchor manufacturing jobs in Texas.
In D.C., Presidents Obama and Calderon will meet on May 19th to discuss historic reforms to Border security, mobility and jobs. Texas is best served if Perry is at the table working on good policy and better solutions instead of more pandering to extremists.


Related Stories