STATE CHAMPIONS SOCORRO BULLDOGS TO TAKE BITE OUT OF TEXAS CAPITOL
June 30, 2009
"The Bulldogs story is already the stuff of El Paso legend. Along with the '49 Bears, '66 Miners, '08 Conquistadores, the '09 Bulldogs show us that pride, persistence and ganas can make champions of each and every one of us."
Written by Eliot Shapleigh, www.shapleigh.org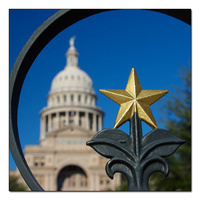 AUSTIN - On Thursday, July 2, 2009, Senator Eliot Shapleigh (D - El Paso) and Representative Chente Quintanilla (D - District 75, El Paso) will host a two day tour and honor the Socorro High School Bulldogs baseball team with a special resolution on the floors of the Texas Senate and House.
The Socorro High School baseball team recently won the Class 5A state baseball championship title. They are only El Paso's second team to win a state championship in baseball since the 1949 Bowie Bears. The Socorro Bulldogs will be honored at the state capitol in Austin during the legislative special session.
Senator Shapleigh's office planned a full itinerary for the team and raised money to make it possible for the Socorro Bulldogs team to visit Austin.
During their visit, the Bulldogs' schedule will comprise of a victory VIP tour of the Capitol Dome, a trip to the Bob Bullock Texas State History Museum, and meetings with Governor Rick Perry and Lieutenant Governor David Dewhurst. Senator Shapleigh and Representative Quintanilla will honor the Socorro Bulldogs on the floors of the Texas Senate and House. Senator Shapleigh and Representative Quintanilla will also host a banquet honoring the team at one of Austin's local favorite restaurants.
In addition, Senator Shapleigh would like to thank the following local businesses and individuals for their support. Their generosity made it possible for the Socorro Bulldogs to receive their deserved recognition.
Clear Channel Communications, Inc.
Tropicana Homes
Greater El Paso's Credit Union (GECU)
Robert Falvey, New Deal Furniture Owner
Larry Patton, Bank of the West President
Paul Foster, Western Refinery President/CEO
Victor Falvey, Attorney at Law
Ike Montey, Investment Builders, Inc.
Robert Brown, Brownco Capitol
Noel Rosenbaum
Danny Anchondo, El Paso Democratic Chairman
Mike Dipp Jr., Plaza Properties
Tanny Berg, Berg Investments
Carlos Aguirre, CEMEX
William Selig
Grace Walker
Gabriel Aragon
EZ Bail Bonds
- End -


Related Stories