Grant System Leads Cancer Researchers to Play It Safe
June 27, 2009
Among the recent research grants awarded by the National Cancer Institute is one for a study asking whether people who are especially responsive to good-tasting food have the most difficulty staying on a diet. Another study will assess a Web-based program that encourages families to choose more healthful foods.
Written by GINA KOLATA, New York Times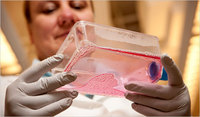 Among the recent research grants awarded by the National Cancer Institute is one for a study asking whether people who are especially responsive to good-tasting food have the most difficulty staying on a diet. Another study will assess a Web-based program that encourages families to choose more healthful foods.

Many other grants involve biological research unlikely to break new ground. For example, one project asks whether a laboratory discovery involving colon cancer also applies to breast cancer. But even if it does apply, there is no treatment yet that exploits it.

The cancer institute has spent $105 billion since President Richard M. Nixon declared war on the disease in 1971. The American Cancer Society, the largest private financer of cancer research, has spent about $3.4 billion on research grants since 1946.

Yet the fight against cancer is going slower than most had hoped, with only small changes in the death rate in the almost 40 years since it began.

One major impediment, scientists agree, is the grant system itself. It has become a sort of jobs program, a way to keep research laboratories going year after year with the understanding that the focus will be on small projects unlikely to take significant steps toward curing cancer.

"These grants are not silly, but they are only likely to produce incremental progress," said Dr. Robert C. Young, chancellor at Fox Chase Cancer Center in Philadelphia and chairman of the Board of Scientific Advisors, an independent group that makes recommendations to the cancer institute.

The institute's reviewers choose such projects because, with too little money to finance most proposals, they are timid about taking chances on ones that might not succeed. The problem, Dr. Young and others say, is that projects that could make a major difference in cancer prevention and treatment are all too often crowded out because they are too uncertain. In fact, it has become lore among cancer researchers that some game-changing discoveries involved projects deemed too unlikely to succeed and were therefore denied federal grants, forcing researchers to struggle mightily to continue.

Take one transformative drug, for breast cancer. It was based on a discovery by Dr. Dennis Slamon of the University of California, Los Angeles, that very aggressive breast cancers often have multiple copies of a particular protein, HER-2. That led to the development of herceptin, which blocks HER-2.

Now women with excess HER-2 proteins, who once had the worst breast cancer prognoses, have prognoses that are among the best. But when Dr. Slamon wanted to start this research, his grant was turned down. He succeeded only after the grateful wife of a patient helped him get money from Revlon, the cosmetics company.

Yet studies like the one on tasty food are financed. That study, which received a grant of $100,000 over two years, is based on the idea that since obesity is associated with an increased risk of cancer, understanding why people have trouble losing weight could lead to better weight control methods, which could lead to less obesity, which could lead to less cancer.

"It was the first grant I ever submitted, and it was funded on the first try," said the principal investigator, Bradley M. Appelhans, an assistant professor of basic medical sciences and psychology at the University of Arizona. Dr. Appelhans said he realized it would hardly cure cancer, but hoped that "it will provide knowledge that will incrementally contribute to more effective cancer prevention strategies."

Even top federal cancer officials say the system needs to be changed.

"We have a system that works over all pretty well, and is very good at ruling out bad things — we don't fund bad research," said Dr. Raynard S. Kington, acting director of the National Institutes of Health, which includes the cancer institute. "But given that, we also recognize that the system probably provides disincentives to funding really transformative research."

The private American Cancer Society follows a similarly cautious path. Last year, it awarded $124 million in new research grants, with some money coming from large donors but most from events like walkathons and memorial donations.

Dr. Otis W. Brawley, chief medical officer at the cancer society, said the whole cancer research effort remained too cautious.

"The problem in science is that the way you get ahead is by staying within narrow parameters and doing what other people are doing," Dr. Brawley said. "No one wants to fund wild new ideas."

He added that the problem of getting money for imaginative but chancy proposals had worsened in recent years. There are more scientists seeking grants — they surged into the field in the 1990s when the National Institutes of Health budget doubled before plunging again.

That makes many researchers, who need grants not just to run their labs but also sometimes to keep their faculty positions, even more cautious in the grant proposals they submit. And grant review committees become more wary about giving scarce money to speculative proposals.

Philanthropies, which helped some researchers try outside-the-box ideas, are now having financial problems. And advances in technology have made research more expensive.

"Scientists don't like talking about it publicly," because they worry that their remarks will be viewed as lashing out at the health institutes, which supports them, said Dr. Richard D. Klausner, a former director of the National Cancer Institute.

But, Dr. Klausner added: "There is no conversation that I have ever had about the grant system that doesn't have an incredible sense of consensus that it is not working. That is a terrible wasted opportunity for the scientists, patients, the nation and the world."

A Big Idea Without a Backer

For 25 years, Eileen K. Jaffe received federal grants to run her lab. As a senior scientist at the Fox Chase Cancer Center, with a long list of published papers in prestigious journals, she is a respected, established researcher.

Then Dr. Jaffe stumbled upon results that went against textbook explanations, suggesting that it might be possible to find an entirely new class of drugs that could disable proteins that fuel cancer cells. Now she wants to find chemicals that might be developed into such drugs.

But her grant proposal was rejected out of hand by the institutes of health, not even discussed by a review panel. She had no preliminary data showing that the idea was likely to work, something reviewers always want to see, and the idea was just too unprecedented.

Dr. Jaffe epitomizes the scientist who realizes that if she were to single-mindedly pursue her unorthodox idea, her "career may be ruined in the process," in the words of Dr. Brawley of the American Cancer Society.

Dr. Jaffe is just conceiving her project; it is much to soon to know whether it will result in a revolutionary drug. And even if she does find potential new drugs, it is not clear that they will be effective. Most new ideas are difficult to prove, and most potential new drugs fail.

So Dr. Jaffe was not entirely surprised when her grant application to look for such cancer drugs was summarily rejected.

"They said I don't have preliminary results," she said. "Of course I don't. I need the grant money to get them."

Dr. Young, chancellor at Fox Chase, said Dr. Jaffe's situation showed why people with bold new ideas often just give up.

"You can't prove it will work in advance," he said. "If you could, it wouldn't be a high-risk idea."

It is a long haul, Dr. Jaffe knows. And she has already had to downsize her lab. But, she said, she will persist.

Angels Outside Government

At the Dana-Farber Cancer Institute in Boston, Dr. Ewa T. Sicinska knew she would have a similar problem with her research. She wanted to grow human cancers in mice. Unlike Dr. Jaffe, though, Dr. Sicinska did not even apply for government money.

It is not that the project was unimportant.

"Rather than have to start a human clinical trial to test new drugs, we want to test them first in mice with real human tumors," said Dr. George D. Demetri, who leads the research group supporting Dr. Sicinska.

Researchers have studied mouse cancers but, they acknowledge, they are just not the same as human cancers — they are much easier to treat, and drugs that cure mice often do nothing in people. So, over the years, scientists have tried to implant human cancer cells in mice, but with little success.

"Everyone told us that if you take tumors out of patients and put them in mice, they don't grow," Dr. Demetri said. The tumor cells usually were put in a plastic dish before being implanted in mice. "We said — wait a minute. The cells are not growing in the plastic dish. They probably are dying. What if we bypass the dish?'"

With that idea in mind, Dr. Demetri, convinced it was too speculative to get federal money, tapped an unusual source, the Ludwig Fund. Endowed by Daniel K. Ludwig, one of the world's richest men in the 1960s and 1970s, the fund supports unfettered cancer research at six medical centers in the United States, including Dana-Farber, to be used at the institutes' discretion. That put Dr. Sicinska in a very different position from that of Dr. Jaffe. She could try something chancy without a grant.

Dr. Sicinska used a quarter of a million dollars of Ludwig money for this project, buying mice without immune systems, which meant they could not reject human tumors, and housing them in a germ-free basement lab. She spent months learning to implant tumors in the mice and enlisted geneticists to study the implanted tumors, making sure they did not mutate beyond recognition.

She spends her days in the lab, using a miniature ultrasound machine to scan the mice, hairless creatures with prominent ears. Four types of sarcomas — cancers of fat, muscle or bone — are growing in them and look genetically identical to the tumors removed from patients.

Dr. Elias A. Zerhouni, former director of the National Institutes of Health, said he was not sure that a grant for the project would have been turned down. The N.I.H., he said, does finance research on mouse models for human cancer.

But Dr. Demetri said he did not apply "because we have lots of experience in what's fundable." His mouse work, he said, is exploratory, and he cannot predict what he will find or when. He certainly could not lay out a road map of what he would do and promise results in a few years.

Studies With a Different Goal

Researchers like Dr. Appelhans, who is studying weight control and tasty foods, do not expect to change the outlook for cancer patients anytime soon. But, they say, that does not mean their work is unimportant.

Dr. Appelhans will study 85 overweight or obese women, measuring how much the tastes and textures of food drive their eating. Then they will be given a weight loss diet and nutritional counseling. Dr. Appelhans will ask whether those who are most tempted by the tastes and textures also have the most trouble following the diet.

As for the grant to assess a Web-based program to improve food choices, it is predicated on studies indicating that what people eat in childhood and adolescence may have an impact on cancer risk in middle and old age, said the grant recipient, Karen Weber Cullen, associate professor of pediatrics at Baylor College of Medicine. Some studies have found that people who reported having eaten fruits and vegetables when they were younger and maintaining a healthy weight were less likely to have cancer.

Of course, it would not be feasible to follow participants for 30 or 40 years to see if their cancer risk was altered, Dr. Cullen noted. But, she added, "we try to achieve improvements in diet and physical activity behaviors that become permanent and will make a difference in later years."

In the study asking whether a molecular pathway that spurs the growth of colon cancer cells also encourages the growth of breast cancer cells, the principal investigator ultimately wants to find a safe drug to prevent breast cancer. She received a typical-size grant of a little more than $1 million for the five-year study.

The plan, said the investigator, Louise R. Howe, an associate research professor at Weill Cornell Medical College, is first to confirm her hypothesis about the pathway in breast cancer cells. But even if it is correct, the much harder research would lie ahead because no drugs exist to block the pathway, and even if they did, there are no assurances that they would be safe.

Dr. Howe said she hoped that she would find such drugs, or that companies would. Then she wants to develop a way to selectively deliver the drugs to precancerous breast cells. If it all works and the treatment is safe, women with precancerous conditions could avoid developing cancer.

Dr. Howe has reviewed grants for the cancer institute herself, she said, and realizes that, among other things, those that get financed must have "a novel hypothesis that is credible based on what we know already."

Trying to Change the System

The National Institutes of Health has started "pilot experiments" to see if there is a better way of getting financing for innovative projects, its acting director, Dr. Kington, said.

They include "pioneer awards," begun in 2004 for "ideas that have the potential for high impact but may be too novel, span too diverse a range of disciplines or be at a stage too early to fare well in the traditional peer review process." But only 3 percent to 5 percent of the applicants get funded. Now the institutes have decided to set aside up to $25 million for "transformative R01 grants," described as "proposing exceptionally innovative, high risk, original and/or unconventional research with the potential to create or overturn fundamental paradigms."

About 700 proposals have come in, but only a small number are expected to be financed, according to Dr. Keith R. Yamamoto, a molecular biologist and executive vice dean of the school of medicine at the University of California, San Francisco, and co-chairman of the committee that reviewed the proposals last week.

"From reading the applications so far, there are really some fantastic things," Dr. Yamamoto said.

There also is new money from the federal economic stimulus package passed by Congress, which gives the National Institutes of Health $200 million for "challenge grants" lasting two years or less.

But the N.I.H. has received about 21,000 applications for 200 challenge grants, and researchers who have applied concede there is not much hope.

"I did submit one of these challenge grants recently, like the rest of the lemmings," said Dr. Chi Dang, professor of medicine, cell biology, oncology and pathology at the Johns Hopkins University School of Medicine. But, he added, "there are many, many more applications than slots."

Some experienced scientists have found a way to offset the problem somewhat. They do chancy experiments by siphoning money from their grants.

"In a way, the system is encrypted," Dr. Yamamoto said, allowing those in the know to wink and do their own thing on the side.

Great discoveries have been made with N.I.H. financing without manipulating the system, Dr. Klausner said.

"But," he added, "I actually believe that by and large it is despite, rather than because of, the review system."


Related Stories

Fair Use Notice
This site contains copyrighted material the use of which has not always been specifically authorized by the copyright owner. We are making such material available in our efforts to advance understanding of environmental, political, human rights, economic, democracy, scientific, and social justice issues, etc. We believe this constitutes a "fair use" of any such copyrighted material as provided for in section 107 of the US Copyright Law. In accordance with Title 17 U.S.C. Section 107, the material on this site is distributed without profit to those who have expressed a prior interest in receiving the included information for research and educational purposes. For more information go to: http://www.law.cornell.edu/uscode/17/107.shtml. If you wish to use copyrighted material from this site for purposes of your own that go beyond "fair use", you must obtain permission from the copyright owner.