Getting In: A Comprehensive Guide to Receiving a College Education
May 15, 2008
Alexandra Ramirez and Patrick James are seniors in the same high school, taking different classes at differing ranking levels, but both are about to embark on the same journey thousands of other high school seniors across the country are ready to set sail on—the college searching and application process.
Written by Ileana Morales, www.shapleigh.org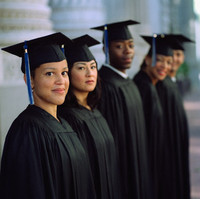 Alexandra Ramirez and Patrick James are seniors in the same high school, taking different classes at differing ranking levels, but both are about to embark on the same journey thousands of other high school seniors across the country are ready to set sail on—the college searching and application process.
Alexandra has always been a hard working student from the time she stepped into High School. Since her freshmen year, she has enrolled in as many Honors classes as possible and is the prospective valedictorian of her class. Alexandra's schedule is filled with Advanced Chemistry, Physics, Government, Economics and English. Patrick, while not as high in his class as Alexandra, has taken a few AP courses, but most of his classes are on level and he is in the middle percentile of his class.
Both students, although different in many ways, are facing a dilemma high school seniors nationwide are: which colleges to apply for and how to pay for their education.
Being able to easily afford a college education is a rare thing in many middle class American families and the rising cost of college has made it a larger financial stress. 2008 was a record breaking year for many universities, which saw the highest number of applicants and allowed the fewest students.
These truth's about college should not deter any student from pursuing a college education, because regardless of grade point averages and family income, Patrick and Alexandra have an equal opportunity at getting accepted and affording a premier education at a respectable university.
Finding the Right College
Finding the right college may turn out to be an extremely long and tedious process, mainly because high school teenagers do not know where to begin. There are hundreds of colleges across the nation and it is difficult to pick from such a variety of options. From choosing between a large state university to a college with a small population, the key is to think deep down inside and truly get to know yourself.
It may seem silly at first, but it is important to have clarity and make a choice based on personal interests and not based on what friends think. Important questions to ask yourself are: What Do I want Out of Life? What sort of environment do I tend to Perform Better in; smaller classroom settings or in larger groups? What fields of study interest me?
Other things to take into consideration are quality of life aspects of the campus from the weather, geographical region, dorm sizes, internship opportunities, and how happy students are attending your prospective school.
Although there are many well-known colleges that almost every American is familiar with—the Ivy's, The University of Southern California, Notre Dame, Duke University—do not be afraid to glance beyond the Ivy League, do your homework, and look at other not-so-familiar names who will really want you to attend. Keep an open mind and take into account that there are so many other colleges with higher acceptance rates, which offer their students with just as much, or if not even more opportunities than the big name colleges.
There are many websites and books that allow students, parents and counselors a good insight into individual institutions and the type of education and the campus life offered. Princeton Review, U.S. News and World Report and College Board all have directories of many American Colleges as well as rankings based on various criteria. Princeton Review has rankings like Happiest Students, Those Who Never Stop Studying, Dorms like Palaces, Best Campus Food, which tell more about college living that any other place can. The U.S. News & World Report also issues out yearly rankings of the nations best colleges and graduate schools and separates them into the engineering, liberal arts, medical and other fields. Apart from doing research online, visit bookstores where you will be able to find many books concerning the nation's best colleges and about the programs offered there. Two books which have been extremely helpful in the past to prospective students have been Looking Beyond the Ivy League and Colleges that Change Lives: 40 Schools that will change the way you think about colleges both authored by Loren Pope.
The Application Process
Once you find the colleges that are most intriguing, make a point of applying to anywhere from 5-10 places you would like to attend to give you many options and also the ability to view different financial aid packages. Many colleges have come together and created a network in which they would abide by a common application. Through this method, prospective students may create a profile and submit the same application to different colleges, essentially taking away from the many stresses of college applications. Not all universities or colleges have turned to the Common Application, but more are joining the network through the years. Another piece of information to keep in mind is that by Texas Law, students in the top ten percentile of their class will automatically be admitted into any public university within the state. In order to be admitted into college, schools ask that you submit an application with information about yourself and usually consist of the following components

The Application Itself with basic personal information



An Essay or series of Essays and Short Response Questions



SAT or ACT score results and sometimes SAT Subject Tests



A Non Refundable Fee or Fee Waiver



High School Transcripts (Mailed From your High School)



Teacher Evaluation/Letters of Recommendation



Interviews- (Most Colleges do Not Require)



Prior to actually working on the application itself, it should be made a personal goal to take the SAT's and/or ACT during your Junior year as most of the material is covered during that schools year and it will be fresh in mind. From then on, it would be wise to retake the test once or twice if you are not happy with your score and to see how you improve. Students tend to stress excessively over SAT's and although they are a part of the application process, they are not the only determining factor into being admitted.
Other extremely helpful preparatory ideas before entering college are to stay away from the easy route. Be up for a challenge because all A's in simply classes will simply make the admissions counselor not highly esteemed of you. Earning a B in tougher AP courses will let them know of your true want to learn and educate yourself. It is important to enroll in at least four years of the core subjects like Science, Social Sciences, math and English and if possible, enrolling in a second year of Chemistry, Physics of Biology and even taking a Psychology course. Nowadays, colleges are looking a lot more into grades and scores on standardized tests into the activities students are doing outside of school. The important think is to be involved around your community, whether it be through extracurricular activities at or outside of school. It is important to find something you feel passionate about and persist in it for years in order to accomplish something.
Finally, when the proper measures have been taking, you can properly begin to fill out the application, which for the beginning consists of basic information such as personal and parental information, choice of major and courses taken. Once these have been filled out, one of the most important components of creating a strong application is next; the essay and short answer questions. Students with a B average can often write a more effective essay than those with straight A's and this is mainly because they choose to write with conviction, instead of turning in a phony, unoriginal piece you THINK college admissions officers want to hear. The best thing is to be yourself, write with conviction and choose an idea you feel strongly about. Most of all, write as if to yourself because it brings about an air of honesty and gives more insight into the person you are, which will allow you to distinguish yourself.
The last two parts for completing an application are the non refundable application fee which generally ranges between $20-$70 but may be waived if you have free or reduced lunch and have used a waiver to take the SAT. The interview, which most colleges do not ask for and is entirely optional, is not very influential but only confirms what you wrote on your essay and allows you to ask whatever questions you have about the college. Following these steps will make your chances of getting accepted higher. However, being accepted at a university does not mean you are set to go; there is still the task of finding out how you will raise the money to pay for your school.
Financing a College Education
The increasing price of college has turned many students from pursuing their dreams of a college education, and although college, especially private schools have become extensively pricey, they should not shy you away from pursuing a college education. Most families do not come from a financial background that can easily invest thousands of dollars into each of their children's educations and it is of highest importance to find some help when it comes to financial aid.
Although college is expensive to finance, there are many forms of aid that will make attending college much more cost efficient.
FAFSA/CSS Profile
In order to apply for financial aid at a college, almost all universities require that you file your application with FAFSA, which is the easiest way of receiving the most financial help at an educational institution. The FAFSA application is generally made available at the first of every January and the only thing necessary is that you (if you have a job), and your parents file your annual tax returns. Prior to filling out the FAFSA, you and your parent/guardian must each sign up with the FAFSA website for a pin number, which will serve as your electronic signature when submitting your information. The application asks general questions about monetary gain throughout the year that can be viewed on the tax return papers. Because there is only a limited amount of federal money available, it is important to file your application as close the date it is made available as possible to ensure that the most amount of aid is granted to you.
The CSS PROFILE which is essentially similar to the FAFSA application is another application with a fee of around $20 that colleges ask for. The CSS PROFILE asks many of the same questions as the FAFSA, but the entity is run through The College Board. Apart from filling both applications, it is also necessary to submit a copy of your most recent tax returns for review and to make any corrections necessary. The Address is provided to you by The College Board after completing the PROFILE.
Upon submitting your applications, most of the money that is granted to students in the form of aid is given by the college itself; which is why its important to work alongside the college. When completing the application for admission, many colleges will ask whether you are planning on applying for aid and often have several scholarships that they give to underprivileged families as long as you apply. Many students are concerned when applying for college that it will cripple their chances at being admitted into a college but universities now have a needs base blind policy in which financial aspects do not play a role in the admissions process. When money is awarded, it may given in the form of grants and scholarships which do not need to be repaid, or through loans, which must be refunded over a period of time. The Federal Pell Grant is also another grant that is given to students whose parents do not posses the amount of disposable income to pay for their children's education.
Loans
Colleges or Universities usually grant families financial aid in the form of grants, work study, and most often loans. While grants and scholarships are not required to be paid back, loans must be reimbursed back to the loan entity. Although money may not be given to you through scholarships, do not be afraid to take out a loan in order to finance your college education. Loans may be taken out through the federal government or through a private loan entity. It is best to strive to take out a loan through the federal government because interest rates are lower and therefore allows you to repay less money. Loans may be given as subsidized or unsubsidized. A subsidized loans means the federal government will pay for your interest on the loan and unsubsidized means that your interest will accrue throughout the years and you must repay it eventually. If it is not possible to take out a loan through the federal government, the next step is to speak to a private lender, such as banks, credit unions or even the college itself. Interest rates on these loans will be significantly higher than those through the government, meaning there will be a larger monetary contribution on the family's part.
When thinking about taking out a loan, either the parent or the student is allowed to take out the loan. Although this essentially makes no difference, some colleges do like when the student takes the initiative to take out the loans themselves and manage their finances on their own.
Scholarships
Scholarships are the other way to help pay for college and are much easier to deal with than loans simply because the funds awarded to you must not be repaid. The larger scholarships are usually awarded through the college itself and when filling out the application, there is generally a section in the application that asks whether you would like to apply for a scholarship. You will either have to simply check a box or you may have to submit a separate scholarships applications. When filling these out, keep in mind what was stated before about honesty and originality in your writing. Because there are so many individual scholarships that students may apply for, I have provided several links for scholarship websites which students in the El Paso area have a good chance of being awarded.
Work Study
Along with the financial aid package, schools award money to students through the Work Study Program. Work study just means you will be awarded a campus job while doing your studies at the university and generally have a set limit on the number of hours that are awarded. Lastly, the most important thing, once you receive your financial aid package, do not be afraid to call the financial aid officers at the university and see if your package can be reviewed. Because you have already been accepted it will not hinder your chances of attending that school, and often in times colleges are willing to work with you to allow you to attend their university.
Although the college application and financing period throughout senior year generally turns into several months of stress; the important thing is to never think you will not be able to receive or afford a well balanced college education. There are hundreds of colleges that are willing to accept you as long as you put in the effort to let them know you are interested in attending.
Websites and Helpful Resources For Students and Counselors
College Books
Pope, Loren. Colleges That Change Lives: 40 schools that will change the way you think about colleges. Penguin Books. New York, NY. 2006.
Pope, Loren. Looking Beyond the Ivy League. Penguin Books. New York, NY. July 2006
College Information
www.utexas.edu/world/univ/state
www.artinstitutes.edu/default.aspx
www.kiplinger.com/tools/colleges
Application Sites
Financing College Sites
https://profileonline.collegeboard.com/index.jsp
www.lulac.org/programs/scholar.html
www.scholarshipexperts.com/apply.tx
www.collegeguindanceconsultants.org


Related Stories