Canutillo students asked to withdraw
July 13, 2010
Canutillo High School seniors who failed the standardized TAKS test and missed graduation last month were asked by administrators to withdraw from the public district and obtain their diplomas from an online high school.
Written by Gustavo Reveles Acosta , The El Paso Times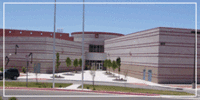 EL PASO -- Canutillo High School seniors who failed the standardized TAKS test and missed graduation last month were asked by administrators to withdraw from the public district and obtain their diplomas from an online high school.
Canutillo school board members authorized district officials to approach 17 students who had completed all classes needed to graduate but had not passed at least one part of the Texas Assessment of Knowledge and Skills test. Administrators wanted these students to enroll in a well-regarded cyber school, Pennsylvania-based Penn Foster High School.
The move would have circumvented the state rule that requires all public high-school students to pass the TAKS to receive a diploma.
Canutillo Superintendent Damon Murphy said all 17 students agreed to enroll at Penn Foster, but none was admitted because its academic standards were more rigorous than those of Canutillo.
Murphy said that his attempt was rare among Texas school districts, but that it was lawful.
"Heaven forbid a school district organize an expedition to look into having its students move on to college," he said. "You can be high and mighty about this, but I was working in a legal way to get them through to college and avoid having them become dropouts."
Murphy's plan would not have cost students or taxpayers any money because the Princeton Review, which owns Penn Foster, had agreed to take the students for free.
Officials at Penn Foster said the students were not able to enroll in the program because they would have had to take additional classes in the summer or fall semester before they were awarded a diploma.
Penn Foster requires students to have four years of science and math to graduate, and none of the Canutillo students met that mandate.
Murphy said he was comfortable recommending Penn Foster to his school board precisely because of the cyber school's high academic standards.
"I could have gone with a diploma mill, and there are several of those available to students," he said. "But this is a reputable program and a great option for students who otherwise would be stuck in limbo for God only knows how long."
The 17 students must now take the summer TAKS test next week and hope for a passing score when the results are released later this summer.
If they fail again, they will not be eligible to enroll in a four-year college or university or qualify for financial aid.
They may enroll at El Paso Community College and take a certain number of courses, but they will not be given need-based aid and will not be able to receive an associate degree until they pass the TAKS.
The students have the option to give up their right to retake the TAKS in future administrations and opt instead to earn the equivalent of a high-school diploma, or GED.
Either way, any of the 17 Canutillo students who fail the TAKS next week will be labeled dropouts and counted against the school and the school district once the state is ready to hand out ratings.
DeEtta Culbertson, a spokeswoman for the Texas Education Agency, said she was aware that school districts in the Houston and Brownsville areas had tried to do what Canutillo did this year.
"We keep track of dropouts, but I can't say how common or uncommon this practice is," she said of Canutillo's move. "However, any student in Texas can withdraw from any school and move to an online program, a charter school, a private school or even just be home-schooled."
Murphy said the practice of withdrawing academically troubled students from public school and enrolling them in private ones right before graduation has been common for years among wealthier parents.
"That option, though, was not something my 17 kids could afford," he said. "If we as a district don't look for ways to try and get them moving toward graduation and into college, these kids would be lost."
School districts in El Paso have strived to help their non-graduating seniors pass the TAKS during the summer.
In the El Paso Independent School District, all seniors who have completed coursework but need the TAKS to graduate are given the option of one-on-one tutoring during the weeks before the last administration of the exam.
Students in the Socorro district have the option of enrolling in classes at El Paso Community College that will prepare them to take the TAKS and then earn them credit toward a college degree.
Holly Fields, a Socorro assistant superintendent, said the program has been successful.
"We find that the intensive TAKS remediation and the college setting is beneficial for our students. The rates of students passing the TAKS during the summer has increased," she said.
Fields said her district had not considered online high schools as an alternative because "we want all of our students to earn Texas high-school diplomas and be ready for college courses."
Murphy acknowledged that his cyber school idea was unorthodox, but said he felt strongly about "out-of-the-box ideas to help our students graduate."
"I have been superintendent of the Canutillo district for less than a year, and many of the remediation programs other school districts have were not in place when I arrived," he said. "I'm trying to work with what I have here. Next year it should be a different story."
Gustavo Reveles Acosta may be reached at greveles@elpasotimes.com; 546-6133


Related Stories

Fair Use Notice
This site contains copyrighted material the use of which has not always been specifically authorized by the copyright owner. We are making such material available in our efforts to advance understanding of environmental, political, human rights, economic, democracy, scientific, and social justice issues, etc. We believe this constitutes a "fair use" of any such copyrighted material as provided for in section 107 of the US Copyright Law. In accordance with Title 17 U.S.C. Section 107, the material on this site is distributed without profit to those who have expressed a prior interest in receiving the included information for research and educational purposes. For more information go to: http://www.law.cornell.edu/uscode/17/107.shtml. If you wish to use copyrighted material from this site for purposes of your own that go beyond "fair use", you must obtain permission from the copyright owner.