SENATOR SHAPLEIGH ASKS THE TEXAS STATE COMMISSION ON JUDICIAL CONDUCT TO INVESTIGATE ALLEGATIONS OF POSSIBLE JUDICIAL MISCONDUCT IN EL PASO
June 15, 2007
"Justice starts at the courthouse. We must act now to restore confidence and trust in our courts."
Written by Senator Eliot Shapleigh, www.shapleigh.org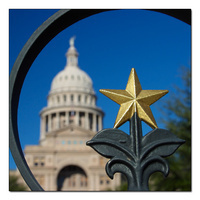 EL PASO – On Tuesday, June, 12, Senator Shapleigh delivered a request to the members of the State Commission on Judicial Conduct to being an immediate investigation into serious allegations of possible judicial misconduct in El Paso, Texas. Included in an '"information" released by the U.S. Attroney's Office on June 8, are allegations the El Paso District Clerk and others "conspired to corruptly and illegally manipulate the manner in which a state court and judge is selected to hear a lawsuit or other legal proceedings…."
"Justice starts at the courthouse. We must act now to restore confidence and trust in our courts," said Senator Shapleigh.
On May 15, the Federal Bureau of Investigations (FBI) conducted a raid on the office of El Paso County Judge Anthony Cobos, El Paso County Commissioners Miguel Terán and Luis Sariñana, and Thomason Hospital board member Arturo Duran. Two days later, John "Travis" Ketner, Chief of Staff for Judge Cobos, submitted a letter of resignation. On June 8, Ketner pleaded guilty to two counts of conspiracy to commit mail fraud, one count of conspiracy to commit wire fraud and one count of conspiracy to commit bribery. The June 8 "information," which includes the government's charges against Ketner, contains serious allegations that must be investigated to ensure the integrity of our Texas judicial system.
To move El Paso forward, to honest, open and transparent government, we must:
Investigate thoroughly and swiftly prosecute those involved with public corruption,

Adopt strong ethics policies for the City, County and all School Districts (YISD, SISD, CISD, EPISD),

Request an investigation by the Texas Commission on Judicial Conduct into allegations of illegal venue-rigging in El Paso County,

Adopt contracting guidelines regarding contact with elected officials, bid evaluation, and post contracting information on the internet, and

Work with the Greater El Paso and Hispanic Chambers of Commerce to develop a business ethics pledge for every member that contracts with government.
"El Paso faces a historic corruption scandal. Good people and strong leaders must stand up now to reform our community," said Shapleigh.
- END -


Related Stories