TEXAS SENATE PASSES STATE BIENNIAL BUDGET
May 28, 2007
"This budget is much, much better than the one the Senate passed on April 12. This budget adds $1.5 billion for critical new investments in CHIP, teacher pay raises, highway bonds, better parks, child protection and TEXAS Grants."
Written by Senator Eliot Shapleigh, www.shapleigh.org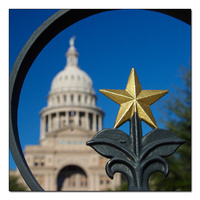 AUSTIN – Today, May 28, the Texas Senate passed H.B. 1, the conference report for the state budget. State Senator Eliot Shapleigh (D-El Paso) voted to pass the budget conference report, which includes improvements to critical investments in health, education, public safety and our environment.
"This budget is much, much better than the one the Senate passed on April 12. This budget adds $1.5 billion for critical new investments in CHIP, teacher pay raises, highway bonds, better parks, child protection and TEXAS Grants," said Senator Shapleigh.
The budget also increases appropriations to UTEP by 17.82 percent ($25 million) and to Texas Tech University Health Science Center by 33.74 percent ($88.8 million) for the biennium.
Health and Human Services

Adds $74 million for the Texas Children's Health Insurance Program (CHIP) to provide insurance for an additional 100,000 Texas children (H.B. 109);
Appropriates $599 million from all funds to restore and increase rates for ambulance, dental, home health, foster care, physicians, primary care case management (PCCM) and vendor drug dispensing;



Adds $19.7 million in general revenue to expand the Breast and Cervical Cancer Program to serve women in family planning and public health clinics;



Addresses U.S. Department of Justice findings at the Lubbock State School with $49 million to meet staffing ration requirements and to integrate 250 state school consumers into the HCS program for the biennium;



Adds $17.5 million in general revenue for guardianship staffing needs at the Department of Aging & Disability Services;



Includes $706 million to settle Frew v. Hawkins increasing reimbursement rates by 25 percent for doctors who see children on Medicaid, and increasing dentist reimbursements by 50 percent;

Appropriates an additional $34.5 million in general revenue and $65.4 in TANF funds to increase staff levels to lower caseloads, enhance training and provide additional technology for the Department of Family and Protective Services.



Public Education

Provides funding to implement continuation of the Teacher Incentives Program; increases funding Campus Turnaround Teams; and continues High School Allotment;



Improves School Facilities funding with a new issuance of IFA, the roll forward of EDA & funding for science labs ($237.5 million);



Targets dropout prevention by expanding the Student Success Initiative to the 8th grade and funding teacher academies and funding the High School Dropout Prevention Program, Communities In Schools (CIS);



Overhauls the Public Education Information Management System (PEIMS) to improve transparency of school district information;



Includes new ADA funding to provide approximately $415 across-the-board teacher pay

raise;

Increases the State's contribution to the Teachers Retirement System from 6.0 percent to 6.58 percent ($645 million) and authorizes an increase in teacher contribution, making possible a 13th check paid to retirees.



Higher Education

Increases funding for UTEP by 17.82 percent with an appropriation of $166 million;



Increases funding for Texas Tech Health Science Center by 33.74 percent with an appropriation of $352 million;



Adds Cancer Research special item for Texas Tech University HSC ($4.8 million);
Increases formula funding for health related institutions by 5 percent ($56 million) and increases Graduate Medical Education (GME) funding by 136 percent ($34 million);



Provides a 35 percent increase in Student Financial Aid by adding $140 million for a total of $533.8 million, serving 80,000 students in FY 2008 and 83,000 students in FY 2009;



Includes a funding increase to TEXAS Grants to serve 61,861 students in 2008 and 69,320 in 2009;

Adds funding for the Governor's Incentive Program to improve teaching excellence and creates a new scholarship program for Top 10% students ($100 million);
Increase higher education formula funding by 4 percent and provides 100 percent hold harmless ($123.3 million);
Doubles the Research Development Fund (RDF) to $40 million and increases the Higher Education Fund (HEF) by 50 percent to $175 million.
Public Safety and Criminal Justice
Provides funding to reduce Juvenile Correction Officer (JCO) staffing ratio to 1:12 and increases funding for healthcare services at the Texas Youth Commission (TYC);



Funds the rehabilitation plan for TYC;



Provides $205.4 million for an additional 5,700 beds and 2,200 Diversion and

Treatment beds to reduce recidivism, revocation, and address prison capacity issues at the Texas Department of Criminal Justice;

Funds an additional 218 commissioned peace officer at the Texas Department of Public Safety;



Increases border security with $15.1 million in technology, $20 million in increased border enforcement personnel (troopers, narcotics officers, rangers, special crimes unit, training and enforcement), $23.9 million in aircraft operations, and $6.5 million in response coordination (for equipment and operations of joint operations and intelligence centers).
Parks, Wildlife and the Environment
$7.5 million designated for the Texas Clean School Bus Initiatives;
Provides $89 million for the Low-Income Vehicle Repair Assistance Program (LIRAP) for grants and retrofits;



$725.4 million in loans and grants financed with $42.2 million in general revenue supported debt service for municipal water supplies and the state participation program;
State parks funding increases $171.7 million all funds for a 75 percent increase;
State local parks grants increased by $36.3 million general revenue for a total of $47.7 million.
Other Critical Investments
Includes contingency directing that if the Comptroller certifies additional revenue available, up to $300 million general revenue appropriated for the purpose of issuing bonds and paying debt service;



Provides $5 million general revenue to the Housing Trust Fund; essentially doubling the contribution to enable TDHCA to provide affordable housing to low-income households;
Provides $19.5 million for the Skills Development Program to provide customized training for an additional 7,785 workers per year through community colleges and technical schools.
Provides $170 million to fund electric rate discount up to 20% for low-income households during the 5 hottest months of the summer (May – September).
Senator Shapleigh said, "Patient work on this bill has made it much better for all of us, especially for hard-working Texas families."
- END -


Related Stories