Owner's Box
Chapter 11: Minus Twenty
Minus twenty sounds like the temperature in the Arctic. So what does minus twenty mean in Texas?
Minus twenty is what your energy bill can be in Houston. The idea of installing solar panels on the rooftops of energy-efficient, affordable homes was first pitched to the City of Houston by Burghli Homes builder, Zach Burghli. By early fall, Burghli had built ten of these homes. In June 2009, the second hottest month ever recorded in Houston's history, the electric bill on one of these homes was "minus twenty." The homeowner actually got money back as a credit for his electricity! How's that for innovation?
Houston is also working to keep hope alive by providing more affordable housing while encouraging clean energy. The Houston Hope program, which was spearheaded by Houston Mayor Bill White, makes energy-efficient, affordable homes available to low to moderate income families. The city purchases tax delinquent lots in selected areas near downtown and then sells them to pre-approved builders who must build the homes to the Energy Star standard. Additionally, families may qualify for up to $37,500 in down payment assistance; up to $39,900 per family is available to police officers, fire fighters, and teachers. And what about the electric bill?
Under a deal with TXU energy company, Houston residents can sell excess electricity from their solar roofs to TXU. The rate that TXU pays is 7.5 cents per kilowatt-hour (kwh). That excess energy then goes back into the grid for use across Houston.
Incorporating solar into affordable housing makes economic sense. The energy costs are being lowered for some of the lowest income individuals. Ultimately, the price of construction of these homes is offset by the energy savings plus the revenue from renewable energy sold to the utility grid. In fact, the City of Houston is submitting an application for federal grant money to build 150 more solar homes.
Here's a map of solar potential across the country. For nearly a century, Texas has led the nation in hydrocarbon energy production. For the next hundred years, Texas is blessed once again to be able to lead in solar energy. El Paso is literally the "Sun City"—we are best positioned to develop, market and lead the state in encouraging solar energy. With an average of 202 days of sun per year, El Paso ranks sixth in the country for the highest % annual possible sunshine average (85%). El Paso should be the next solar capitol of Texas.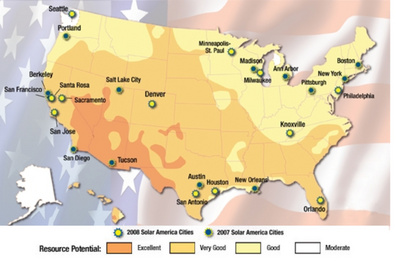 Solar Information
For several years, our Senate office has asked El Paso Electric (EPE) to take much more aggressive steps to lower costs, allow consumers to generate and sell solar power, and put El Paso on the map. Today, changing EPE from a 1950s electric company to a 21st century energy company must now be a top community priority. Becoming a solar city consists of a significant increase in residential solar power use, large-scale solar installations, as well as an increase in public awareness through promotions and citywide education.
In December 2009, EPE filed a rate case with the Public Utility Commission (PUC) of Texas to increase its rates. As part of its case, EPE submitted language for the rate at which EPE would buy back surplus renewable power generated by a typical homeowner (for example, solar rooftop panels or a solar water heater). However, the language that EPE has proposed does not make it clear how much a customer would receive. For example, in Houston, TXU customers know that they will receive 7.5 cents per kilowatt-hour and Green Mountain customers will get the full retail price (around 10 cents per kilowatt-hour). EPE needs to clarify their language and methodology so that customers will know with certainty that they will receive a reasonable rate if they choose to invest in renewable energy.
In El Paso, "minus twenty" should mean what it means in Houston—more money in the family budget.