Q&A with Senator Shapleigh
September 21, 2006
Eliot Shapleigh is a fifth generation El Pasoan with deep roots in our community that date back to 1846. His wife of 28 years is Lee Shapleigh. His children are Zoe, a junior at Princeton, and Ben, who is currently a senior at Coronado H.S.
Written by Senator Eliot Shapleigh, www.shapleigh.org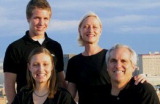 Eliot Shapleigh is a fifth generation El Pasoan with deep roots in our community that date back to 1846. His wife of 28 years is Lee Shapleigh. His children are Zoe, a junior at Princeton University who is studying to be a pediatrician and Ben, who is currently a senior in the IB Program at Coronado High School. In 1996, Shapleigh left as coach of the highly competitive "Turtles" (an under 12 soccer team) to run for the Texas Senate.
Senator Shapleigh is a graduate of Coronado High School, Rice University, and the University of Texas Law School. His civic engagement includes: Peace Corps, West Africa 1974-77; Chair, Salvation Army Advisory Board; Co-Founder, Unite El Paso; Volunteer Attorney, Judge Eduardo Marquez' Court of Inquiry 1994; Founder—Chamber's Health Council; Co-Founder, Community Scholars; Founder—El Paso Pride Project; Founder—Paseño Art in Austin; Spearheaded El Paso Economic Summit of 1998, El Paso Education Summit of 1999, CHIP Coalition of 2001, CHIP Coalition of 2006, "Adelante Con Ganas" Vote Project and Paseño Opportunity Fund for Housing Flood Victims of 2006.
The following questions and answers are taken from the Greater El Paso Chamber of Commerce's Prosperity Project (P2) 2006 General Election Voter's Guide.
1. Do you think that the solutions for financing public education passed in the 79th Special Legislative Session provide an equitable and fair public education system in Texas? What strategies would you propose to developing long term solutions to meet the increasing demand on our public education system?
For state leaders, our top priority must be educating our children to compete for the "knowledge jobs" of the 21st century. In Austin, the priority has been tax cuts for the wealthiest Texans, tax hikes for the middle class and no investment in public or higher education. Last month, Rick Perry ordered state agencies to find another 10% in budget cuts. Contrast his action with New Mexico where Governor Richardson took a budget surplus, paid for another year of early education and increased investment in college grants. The best long term solution is to elect leaders who care about education.
2. Infrastructure is a cornerstone to economic development. What steps would you take to ensure that El Paso has the necessary, adequate infrastructure to prepare for its growth and the imminent influx of troops due to BRAC?
In 1996, after we made highways a priority in our "fair share campaign," El Paso highway funding went from $26m per year to $140m. In 2003 and 2005, we wrote key sections of HB 3588 and HB 2702 to let El Paso create a city RMA, build rail and the inner loop, and put state-of-the-art trade technology at our bridges. As chair of the Senate BRAC subcommittee, we passed SB 652 so military communities can access the $250m Texas Military Value Fund. Finally, El Paso's "International Intelligent Transportation Center" and Border 2020 Project will move people and product to market safer, faster and smarter.
3. Please offer your assessment of current funding levels for CHIP and Medicaid. What suggestions do you have for improvement of these programs?
Back in 2003, we offered an amendment to tax cigarettes $1 to keep 500,000 Texas children in CHIP/Medicaid. Sadly, we lost that vote. The far right passed the most mean spirited budget cuts in Texas history. 250,000 Texas children, including 14,000 from El Paso, got cut from CHIP/Medicaid. Since then, we've passed bills to reinstate vision, dental and mental health coverage. We are also spearheading an effort to return 30,000 children to CHIP rolls. For us, budgets reflect values. If we value our children and our elderly, we must elect those who have the courage to pay the price.
4. What mechanisms do you suggest to assist small businesses in the offering of employee health insurance? Do you think the state has a role in reducing this encumbrance?
For years, our office has spearheaded "Insure El Paso," a campaign to increase health insurance in America's least-insured big city. Less than 1/3 of El Paso families have commercial health coverage. With insurance costs rising on average to $3,413 per employee annually, even large companies are dropping health insurance. Both the state and national governments must do more to lower costs. "Insure El Paso" has three goals: increase CHIP/Medicaid coverage, pass bid-preference incentives for employment-based health insurance, and develop tri-state partnerships to cover insurance costs. We worked with the Chamber to create the Health Council to move the plan forward.
5. Do you have a proposed solution to ensure El Paso receives equitable and fair access to state funds allocated for government-provided services?
For El Paso to succeed in Austin and DC, we must have an articulated, shared vision. Back in 2001, we passed the "Border Marshall Plan" in the Texas Senate to drive public investment—because helping us to create jobs helps Texas. In a world based on global competition, El Paso's future rests with the "Five M's'—Military, Manufacturing, Medicine, Movement and Mexico.' When we as a community join to deliver this message, we win. From Mayor to Senator, from Superintendent to various Chambers, if we deliver our consistent, powerful case for investment in the 5 M's, we will succeed.
6. What is your strategy for obtaining funding for the creation of the four-year Medical School in El Paso?
First, let's celebrate what we've done. In 1998, we spearheaded our Economic Summit to stake El Paso's future on the "Medical Center of the Americas." We funded $50m of tobacco money in a permanent endowment. We passed a BHI bill along with $140m in riders for the two buildings that rise on the MCA today. We worked with business leaders to start the "MCA Foundation." With Rick Francis' support, in August, Tech put in $5m to keep accreditation on track. When state leaders make good on promises made long ago, we'll get the final $22m of faculty funding in January.
7. Name one service program currently provided by our community, whether sponsored by a governmental entity or any other organization, that you view as ineffective. Explain your choice.
History teaches us lessons. Back in the 80's, IDC was a failure. IDC taught us that narrow economic development agendas, based on profits of the few, rather than investment founded on global competitive advantages, produce less competition and fewer jobs. In the next 10 years, our great community will have a "golden era." As Chair of the Ten State Border Economic Development Committee, our office has worked hard to create a Border agenda built on regional economic integration. As a community and region, we must align our efforts, define our objectives, communicate between government and economic development and never repeat the mistakes of IDC.
8. Name one service program that you view as critical to the growth of our community and will work on providing, if you are elected. Please elaborate.
For tomorrow's challenges, no service is more important than ethical regional leadership. To meet this challenge, in 1999, we founded "Community Scholars", a youth leadership program that joins teams of emerging sophomore, junior and senior leaders from every El Paso high school to research key areas essential to our future. In her project paper, Community Scholar Ruby Sosa was asked, "as Mayor, how do you create jobs?" She described a six-story roller coaster over the Rio Grande, as the centerpiece of a binational Camino Real Entertainment Corridor. That was Ruby's plan—six years ago. Some day, she'll be back to move us forward.