Sen. Eliot Shapleigh: EPISD engages in 'cheating'
June 12, 2010
State Sen. Eliot Shapleigh has asked the U.S. Department of Education to investigate the El Paso Independent School District, which he said has manipulated standardized tests so that certain low-performing students did not take them.
Written by By Adriana Gómez Licón, The El Paso Times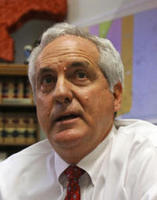 EL PASO -- State Sen. Eliot Shapleigh has asked the U.S. Department of Education to investigate the El Paso Independent School District, which he said has manipulated standardized tests so that certain low-performing students did not take them.
"The model of excellence for El Paso is based on cheating," Shapleigh, D-El Paso, said at a news conference Friday. Unbeknownst to Shapleigh, a former history teacher, Stanton Bulloch, made similar complaints against the district on Friday.
School Superintendent Lorenzo García called a news conference of his own to say that Shapleigh's claims were untrue. "They are false, hurtful and unnecessary," García said. "We are very accountable to our community." Shapleigh stood alone at his news conference, but he later received unexpected support from Bulloch, who taught at El Paso High School until retiring last year. Bulloch said he witnessed widespread manipulations of standardized testing at his school last year.
A teacher for 24 years, Bulloch said sophomores who spoke English poorly were "reclassified" as freshmen in March or April, just before they would have taken the Texas Assessment of Knowledge and Skills test. How students performed on the TAKS exam counted toward the school district's compliance with federal standards.
These students remained in the same classes but did not take the standardized test, Bulloch said in an interview. Shapleigh gave an account similar to Bulloch's. But Shapleigh also said EPISD went so far as to transfer some students to other high schools or simply told them not to show up on test day. He said García's administration altered the test-taking pool to avoid low scores and costly sanctions under the federal No Child Left Behind Act. Bulloch said he saw students who were weak in English excluded from standardized tests in April 2009. "What they told the kids to do is they had to go to the cafeteria to sign in," Bulloch said. "They just told the kids that they didn't have to take the tests."
He said the office of the principal reclassified sophomores as freshmen or juniors, based on their language proficiency. "In my particular class, I counted 30 students that I had all year long but that were reclassified" so they were not tested, Bulloch said. He said it was the first time in his career that he saw a school cheating on standardized tests.
He taught seven years at El Paso High. He said numerous teachers know about the problem but are afraid of being fired if they talk about the fraudulent testing system. He said he was speaking out now because retirement had freed him from intimidation. "I'm not that brave.
I wouldn't be speaking out if I hadn't retired," Bulloch said. Luis Liaño, principal of El Paso High School, said he was not in charge during the time Bulloch said cheating occurred. "From my experience and what I've done this year, that is not happening," Liaño said. Shapleigh said manipulations on standardized tests had occurred mostly at Bowie High School. He said he had learned from teachers and counselors that the district blocked certain students from taking the mandated tests. Thirty-seven percent of Bowie students passed the TAKS test in 2008.
Fifty-eight percent passed last year. Shapleigh alleged that the improvement was at least partly because certain students were purposely blocked from taking the test by García's administration. García has said no cheating or manipulation occurred at Bowie or elsewhere. Rather, he said, Bowie was on the upswing, as evidenced by improved graduation rates. Shapleigh said other high schools such as El Paso High, Coronado, Austin and Burges ought to be part of a districtwide investigation. Shapleigh is campaigning against the district's tax referendum, which voters will decide on Tuesday. The EPISD is asking voters to authorize a 13-cent increase in the tax rate.
That would equate to an annual increase of $130 for a $100,000 property. "More money into a bad model won't make better schools," Shapleigh said. García said politics have much to do with the claims Shapleigh has made. "We must question the senator's motives, his agenda, his timing. He seems to be overzealous," García said. García said Shapleigh began making accusations of fraud in testing at the beginning of the 2008-09 year.
He said he met with the senator, who agreed to stop attacking the district. But, García said, Shapleigh revived his accusations in mid-May because the district was seeking the tax increase. School board members said they had not heard any complaints from community members regarding standardized tests. They said they trusted that the administration was not breaking the law. "We always have room for improvement," board member Lisa Colquitt-Muñoz said. "Right now, we are following the rules as a district."
Adriana Gómez Licón may be reached at agomez@elpasotimes.com; 546-6129.


Related Stories

Fair Use Notice
This site contains copyrighted material the use of which has not always been specifically authorized by the copyright owner. We are making such material available in our efforts to advance understanding of environmental, political, human rights, economic, democracy, scientific, and social justice issues, etc. We believe this constitutes a "fair use" of any such copyrighted material as provided for in section 107 of the US Copyright Law. In accordance with Title 17 U.S.C. Section 107, the material on this site is distributed without profit to those who have expressed a prior interest in receiving the included information for research and educational purposes. For more information go to: http://www.law.cornell.edu/uscode/17/107.shtml. If you wish to use copyrighted material from this site for purposes of your own that go beyond "fair use", you must obtain permission from the copyright owner.