Senator Shapleigh to Host Press Conference on Mexico City Delegation Visit
March 17, 2010
"What we need now is patient, careful, and strong leadership. Our three state region needs a coordinated plan and the kind of help that neighbors give neighbors. Our thoughts and prayers are with our brothers and sisters in Juarez."
Written by Senator Eliot Shapleigh, www.shapleigh.org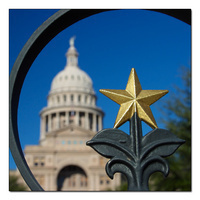 EL PASO - On Friday, March 19, 2010 at 10:00 a.m., at Senator Eliot Shapleigh's District Office, Senator Shapleigh will host a press conference to discuss his visit to Mexico City and initiatives in fighting cartels along the Camino Real Corridor.
Border Legislative Conference members from the U.S. – Mexico border states met on March 15-18, 2010 in Mexico City for the Mexico City Delegation Visit. Participating legislators had the opportunity to discuss issues of great importance in the bilateral relationship, including the Merida initiative.
"What we need now is patient, careful, and strong leadership. Our three state region needs a coordinated plan and the kind of help that neighbors give neighbors. Our thoughts and prayers are with our brothers and sisters in Juarez," said Senator Shapleigh.
The Conference included the participation from Senator Denise Moreno Ducheny, Chair, Border Legislative Conference, California State Senate. Diputado Ramiro Flores Morales, Vice Chair, Border Legislative Conference, Coahuila State Legislature. Senator Lou Correa, California State Senate. Senator Mary Jane Garcia, New Mexico State Senate. Representative Andy Nuñez, New Mexico House of Representatives. Senator Jeff Wentworth, Texas State Senate. Senator Eliot Shapleigh, Texas State Senate. Diputada Edna Mireya Perez Corona, Baja California State Legislature. Diputado Juan Manuel de Santiago Moreno, Chihuahua State Legislature. Diputado Moisés Ignacio Casal Díaz, Sonora State Legislature. Diputado Marco Antonio Ramírez Wakamatzu, Sonora State Legislature; and Diputada Leslie Pantoja Hernández, Sonora State Legislature.
The agenda for the Mexico City Delegation Visit is as follows:
Monday, March 15
All Day Arrival of BLC Members to Mexico City
Tuesday, March 16
8:15 a.m. Meet in Lobby of Hotel Melia Mexico
8:30 a.m. Depart to Mexico's Federal Senate
9:00 – 11:00 a.m. Meeting with Members of Mexico's Federal Senate
• Senator Jaime Rafael Diaz Ochoa
Chair, Northern Border Affairs Committee
• Members of the Northern Border Affairs Committee
• Members Foreign Relations Committee
11:15 a.m. Depart to Office of the Attorney General
12:30 – 2:00 p.m. Meeting with Arturo Chavez Chavez
Attorney General of Mexico
4:00 p.m. Depart to Mexico's Chamber of Deputies
5:00 p.m. Meeting with Members of Mexico's Chamber of Deputies
• Foreign Relations Committee
Wednesday, March 17
10:30 a.m. Depart to Ministry of Foreign Affairs
11:00 a.m. Mexico's Ministry of Foreign Affairs
Meeting with Julian Ventura, Undersecretary for North America
12:15 p.m. Depart to National Historical Museum: Chapultepec Castle
12:30 p.m. Visit Chapultepec Castle
3:30 p.m. Depart to U.S. Embassy
4:30 p.m. Meeting with U.S. Ambassador to Mexico Carlos Pascual and other Officials from the United States Embassy
7:00 p.m. Tour and Reception of Casa de California:
University of California's facility in Mexico City
Thursday, March 18
All Day Departure of BLC Members
Below is the text of a letter that Senator Shapleigh sent to Senator John Carona, Chairman of the Senate Committee on Transportation and Homeland Security regarding cartels along the Camino Real Corridor:
Re: "Fighting Cartels on the Camino Real Corridor/Merida II"
Dear John, I write to update you on the situation in Juarez. Over the last few weeks, approximately 250 experts from Washington, D.C. and Mexico, D.F. representing a dozen agencies have been on the ground in Juarez, San Diego, Tijuana and other Border communities on a fact-finding mission to inform a policy review and assessment of the fundamental policy changes critical to US-Mexico bilateral relations.
Their basic plan is to frame Merida II around four key policy objectives: federal security, local/state security, jobs, and socioeconomic concerns. Key interest groups here and in Mexico want to broaden the policy discussion further to include the trillion-dollar annual (and growing) demand for drugs in the United States. Many see the recent massacre of two adults and thirteen innocent teenagers in Juarez as the "tipping point" to catalyze political change in Mexico. President Calderon's recent visits to Juarez have spurred a negative response unlike any seen since the 1910s. A mother of one of the teenage boys murdered by the cartel told President Calderon to "leave Juarez" after his administration accused all the teenage victims of being cartel members. In the President's defense, he permitted her to vent her anger on national television.
During his visits to Juarez, President Calderon admitted that his administration's current policies are not working and ordered members of his cabinet to remain in Juarez until his return to accept feedback from the community on his new proposals.
Later in March, U.S. and Mexican counterparts will meet to finalize their recommendations, which they will then present in D.C. and to state and local governments. Later, both Presidents will meet to formalize and sign Merida II. Key recommendations will come from the San Diego/Tijuana and El Paso/Ciudad Juarez ports, which are among the most important manufacturing/logistics regions in North America. In fact, 20% of NAFTA manufacturing output is from the Juarez, El Paso, Southern New Mexico region.
The U.S. Trade Representative, Ron Kirk, acknowledged the significance of U.S.-Mexico trade and noted that cross-border trade surpasses $1 billion a day. Ambassador Kirk also has strongly emphasized that we should continue to strengthen our relationship and enable businesses to take advantage of trade opportunities. Today, Texas trades more with Mexico than all the European Union combined, so clearly, Texas strategic interests are at stake.
Our office is working 24-7 on three key economic and infrastructure recommendations that our office and the Border Legislative Conference, state lawmakers of the ten U.S. and Mexican border states have promoted with the Bush Administration, various Governors and in particular, Governor Rick Perry for several years now:
1) Secure Manufacturing tax credits for key, emerging clusters, aimed at restoring 100,000 lost jobs, which are a contributing factor in the unrest in Juarez;
2) El Paso County Secure Border Trade Demonstration Program: The expanded pilot program would equip 1500 commercial trucks with state-of-the-art intelligent transportation system devices to secure cargo and transmit key data into a central repository where the data can be analyzed by software agents to detect anomalies that may have comprised the security of the protected cargo. This secure, fast, smart technology pilot will eliminate 8-hour waits for commercial traffic; and,
3) 21st Century Mass Transit - El Paso and Ciudad Juarez: A 3.5 mile City of El Paso proposal, linked to proposals from the Municipio De Juarez a 10 mile cross-border, commuter rail to safely and quickly link Juarez/El Paso business and education institutions that uses biometric identifiers to ensure the secure, fast movement of international mass transit passengers across the Border. Secure systems like this have long been used in Canada, Europe and even in the Green Zone in Baghdad; in Seattle-Vancouver, a similar rail system has been in use for years.
Increasingly, policymakers are realizing that the blunt-force security focus of the last eight years has shut down secure, lawful manufacturing by the 3,500 Fortune 500 companies doing business in the ten Border States; hamstrung North American manufacturing competitiveness; and accelerated the loss of North American jobs. The Maquiladora Association of Juarez recently reported that nearly one billion dollars has not come to the city due to the climate of insecurity. These resources would have generated between 70,000 and 80,000 jobs. The Association also reported that maquiladora employment decreased from 249, 837 workers in January 2008 to 166,454 in June 2009. This translates to a net job loss of 83,000 jobs during 18 months. The recession in the U.S. has contracted segments of the manufacturing market too. It is important to consider that approximately 2,000 El Pasoans work in Ciudad Juarez in a maquiladora's occupying professional and management positions, and more than 66,000 El Paso jobs are linked to the Juarez economy.
This consensus is spurring the need for a broad policy review, immediate and effective security for Juarez citizens, deeper understanding of root causes of cartel appeal, and serious job creation assessment.
On the ground, the facts are as follows:
Since January 2007, when the Mexican drug war began, 9,903 people have been killed. In 2009 alone, Juarez had more than 2,600 slayings, while Tijuana had more than 600. In fact, Juarez is now the murder capital of the world, far ahead of more peaceful locations like Baghdad

;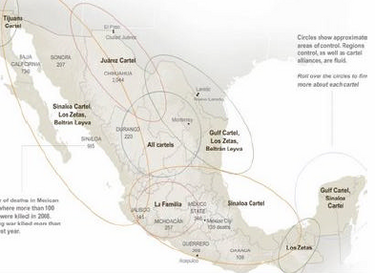 About 40 percent, or 10,678 businesses, were forced to close in Juárez because of the fear of extortions and assaults for not paying fees, or "cuotas," to criminal organizations, according to the Mexican chamber of commerce

;
One in four properties in Juarez has been vacated due to refugees seeking safety in the US or elsewhere in Mexico;
Mexican drug cartels are infiltrating federal law enforcement agencies along the Border. Only one in ten of the new hires for agency jobs are given polygraph tests, and of those, 60 percent are deemed unsuitable for employment.
Based on anecdotal evidence, under pressure in Juarez, it appears that elements of gangs in Juarez are moving their operations to the Mission Valley near El Paso. For example, we have received numerous reports of gang members living in San Elizario, Socorro and Fabens, communities in the Mission Valley of El Paso. In addition, trusted sources report that long time neighbors have been arrested for drug dealing, Mexican nationals are in neighborhoods at night knocking on doors with aggressive questions, and seniors are now locking surrounding gates and acquiring dogs as sentinels. In my twelve years as Senator in El Paso, with deep roots in the Valley, I have not heard such allegations, nor the real fears that it reflects.
From my personal perspective, as a family that has lived, worked and thrived here along the Camino Real Corridor since the 1840s, the scale of violence, social unrest and the number of economic refugees now exceeds that of the Mexican Revolution.
Area business groups are paralyzed by the familiar refrain: "if we talk about it, the market will react;" meanwhile logistics managers and contract negotiators are reacting every day. Obviously, our citizens need safety first and our governments need an accurate public benchmark report so that we can act with prudent, informed public leaders on key steps necessary to improve the situation on the ground, but make no mistake—we must act, now. What is happening in Juarez today because of the level of violence, and the critical concentration of North American manufacturing capacity is internationally significant, and deserves the full attention of the U.S. and Mexican Governments and responsible leaders in the State of Texas.
After the Senate Homeland Security and Transportation Committee's latest visit to El Paso in November 10, 2009, we organized a "Fighting International Criminal Enterprise in the Camino Real Corridor" taskforce. The role of this taskforce is to make policy recommendations that are aligned with proven strategies for combating international, cross border criminal enterprise such as asset forfeiture, kingpin apprehension and better actionable intelligence between agencies. Our report will be made available to the Committee by June 1st.
Some time in August, (or earlier depending on Merida II) we want to have an expert panel brief the Committee and relevant state officials on the emerging areas of consensus on policy and resource reallocation. Several key initiatives will require strong state leadership and coordination, especially among law enforcement, infrastructure investment and economic incentives. We will ask you to hold this meeting as a joint hearing with the Senate Economic Development Committee given the overlapping nature of these issues and our jurisdiction. We have copied both Governor Rick Perry and Lt. Governor Dewhurst with this letter.
We so appreciate your keen interest, compassion, and leadership on these critical issues facing Texas, the United States and Mexico and especially "fronterizos" who call the Borderlands our "home."
Very truly yours,
Senator Eliot ShapleighD—God's Country
What: Senator Shapleigh will host a press conference to discuss his visit to Mexico City
When: Friday, March 19, 2010 at 10:00 a.m.
Where: Senator Eliot Shapleigh's District Office, 800 Wyoming Ave, El Paso, TX 79902