Lone Star rising
July 9, 2009
VISITORS to Governor Rick Perry's vast office in the Texas capitol building in Austin (with a dome a mite taller, naturally, than the one in Washington, DC) are sometimes offered a viewing of a triumphalist video. Entitled "The Texaplex", the seven-minute film is a hymn to the successes Texas has achieved in recent years, and they look pretty impressive.
Written by Christopher Lockwood, The Economist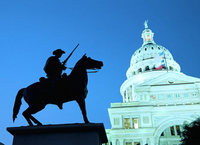 VISITORS to Governor Rick Perry's vast office in the Texas capitol building in Austin (with a dome a mite taller, naturally, than the one in Washington, DC) are sometimes offered a viewing of a triumphalist video. Entitled "The Texaplex", the seven-minute film is a hymn to the successes Texas has achieved in recent years, and they look pretty impressive.
Texas now hosts more Fortune 500 companies than any other American state. They include AT&T, Dell and Texas Instruments; oil giants such as Exxon Mobil, ConocoPhillips and Valero; American, Continental and Southwest Airlines; Fluor, a huge construction firm (recently lured from California); J.C. Penney; Halliburton; and 52 others. Texas claims to have been responsible for 70% of all the net new jobs created last year in America's 50 states, though since only a few states created any jobs at all that is not quite as astonishing as it sounds.
True, the film tactfully ignores the recession. Texas followed America into the downturn in September last year, almost a year after the rest. In May it shed a worrying 24,700 jobs, and the Dallas Federal Reserve now forecasts that between 315,000 and 350,000 jobs will go in 2009. But proportionately the May figure was still lower than for the nation as a whole, and Texas's unemployment rate, at 7.1%, was 2.3 points below the American average. Housing repossessions are still very rare; the state budget is still in surplus even as California and New York teeter on the edge of bankruptcy. Unlike those fellow states with large populations, Texas levies no personal income tax, and with almost unlimited space on which to build, its houses are big and affordable.
All this has brought people flooding in and made Texas America's fastest-growing state. Net domestic inflows have been running at around 150,000 people in recent years, whereas California and New York have seen net outflows. Next year's national census is expected to show that flourishing Houston has replaced struggling Chicago as America's third city. Of the ten largest cities in America, three are in Texas.
Those three, Houston, Dallas and San Antonio, together with the state capital, Austin, and Fort Worth, make up what the boosters call the Texaplex: a densely packed triangle, with each side measuring about 300 miles, that is home to roughly 80% of the state's population of 24m (second only to California's 37m). This "Texas triangle", containing America's third-largest airport (Dallas-Fort Worth) and its second-busiest port (Houston, despite being 50 miles inland), has emerged as one of the most dynamic regions in all of America.
Joel Kotkin, an urbanologist based in California, recently compiled a list for Forbes magazine of the best cities for job creation over the past decade. Among those with more than 450,000 jobs, the top five spots went to the five main Texaplex cities—and the winner of the small-cities category was Odessa, Texas. A study by the Brookings Institution in June came up with very similar results. Mr Kotkin particularly admires Houston, which he calls a perfect example of an "opportunity city"—a place with lots of jobs, lots of cheap housing and a welcoming attitude to newcomers.
He is certainly right about the last point: not too many other cities could have absorbed 100,000 refugees, bigheartedly and fairly painlessly, as Houston did after Hurricane Katrina struck New Orleans. With vibrant Asian communities alongside its balanced Hispanic, white and black mix, with no discernible racial tensions, and with more foreign consulates than any American city except New York and Los Angeles, Houston is arguably America's most enthusiastically cosmopolitan city, a place where the future has already arrived.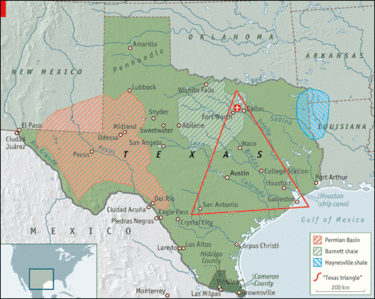 Click here to view larger image.
Wander round to the Senate side of the state capitol, though, and you will hear a different Texan tale. There, you might encounter Eliot Shapleigh, the Democratic state senator for a district centred on El Paso, on the extreme west of the Mexican border. Mr Shapleigh publishes his own report: "Texas on the Brink".
His statistics are a lot less rosy. Texas has the highest proportion of people lacking health insurance of all 50 states; the third-highest poverty rate; the second-highest imprisonment rate; the highest teenage-birth rate; the lowest voter turnout; and the lowest proportion of high-school graduates. Mr Shapleigh is not surprised that these figures are so terrible: Texas spends less on each of its citizens than does any other state. Being a low-tax, low-spend state has not made Texans rich, though they are not dirt-poor either; their median income ranks 37th among the 50 states.
These two faces of Texas are hardly a paradox. Texas has one of the most unequal income distributions of any state, a legacy of the days when rich ranch-owners and oil billionaires were served by poorly paid ranch hands and roughnecks; and when Mexican immigrants crossed an essentially open border at will to toil away at sun-scorched farm jobs for pay that "Anglo" (non-Hispanic white) workers would not contemplate. You might call this Texas's persistent "Southern" side, a contrast to its high-tech, urban and liberal "Western" side. These two aspects of Texas's character and history still sit uneasily together, just as geographically the vast landmass of Texas belongs both to the South and the West.
Historically, a low-tax, low-spend model has served Texas fairly well, though the limitations of dependence on a few commodities (oil, cattle, cotton) were cruelly shown up in the mid-1980s. When the oil price crashed, the property market and then the entire banking system went down with it. Between 1982 and 1993 Texas saw 523 banks go under, and in the single year of 1986 its gross state product slumped by 3.1%. Since then it has been diversifying frantically, with considerable success.
Starstruck
But there are now two big reasons to think that the Texas model will need further revision. One is external to the state: the global economy has become a much more knowledge-intensive place, with even the oil business turning into a high-tech industry, so Texas needs more and better universities and schools. Embarrassingly for the state, only one of its universities (the small, private Rice University in Houston) makes it into the list of the top 20 universities in America, let alone the world.
In contrast to those Forbes ratings, the Kauffman Foundation, which promotes entrepreneurship, puts Texas only 18th in its ranking of states' ability to take advantage of America's "transformation into a global, entrepreneurial and knowledge- and innovation-based New Economy". Texas falls down in a number of categories, most of them to do with education.
Kauffman ranks Texas 41st for the education level of its workforce as well as for the average education level of recent arrivals from elsewhere in America, suggesting that too many of its newcomers are chasing low-end jobs. A committee on education appointed by Mr Perry concluded in January that "Texas is not globally competitive" and gave warning that it "faces a downward spiral in both quality of life and economic competitiveness".
The other, even more important, reason to expect change is internal. In 2004 Texas became one of only four states in America where whites are no longer in the majority. On recent trends, Hispanics will be the largest ethnic group in the state by 2015. Since they tend to vote Democratic, this has big implications for Texas's political make-up and for national politics. And an increasingly assertive Hispanic caucus, in an increasingly Democratic state, also seems sure to demand better schools and health care for the people it represents, who currently lag far behind the Anglos on any social indicator you care to name. Close to half of Latinos in Houston, for instance, fail to graduate from high school.
How Texas responds to these forces will determine its future. Get it right, and the state will remain business-friendly and globally competitive, with high employment and a rising standard of living. Get it wrong, and Texas could follow California (which "flipped" from Republican to Democratic control in part thanks to rapid immigration) down the road of high taxes and excessive regulation. This route has bankrupted California and is prompting a net 100,000 people to leave each year. Many of them head for Texas. One simple statistic tells that tale: it costs nearly three times as much to rent a self-drive van for a one-way journey from Los Angeles to Houston as the other way around.


Related Stories

Fair Use Notice
This site contains copyrighted material the use of which has not always been specifically authorized by the copyright owner. We are making such material available in our efforts to advance understanding of environmental, political, human rights, economic, democracy, scientific, and social justice issues, etc. We believe this constitutes a "fair use" of any such copyrighted material as provided for in section 107 of the US Copyright Law. In accordance with Title 17 U.S.C. Section 107, the material on this site is distributed without profit to those who have expressed a prior interest in receiving the included information for research and educational purposes. For more information go to: http://www.law.cornell.edu/uscode/17/107.shtml. If you wish to use copyrighted material from this site for purposes of your own that go beyond "fair use", you must obtain permission from the copyright owner.