From El Paso to Austin: Joe Moody, Marisa Marquez join legislators
January 14, 2009
Proud parents, brothers, sisters, aunts, uncles looked on in the packed House chamber as Marisa Marquez and Joe Moody lifted their right hands to their hearts and swore to uphold and protect the constitutions of the United States and Texas.
Written by Brandi Grissom, The El Paso Times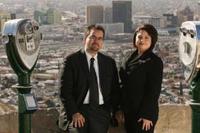 AUSTIN -- They both had that look Tuesday morning.

Smiles from state Reps. Joe Moody and Marisa Marquez gave a welcoming hello, but their creased foreheads betrayed the nerves.

"I don't think I've had butterflies in my stomach for over a year, but a little bit right now, a little bit," Moody said before heading to the House floor with his family to be sworn in for his first term as a Texas legislator.

Family members and friends milled about chatting and eating, excited to see the two young leaders from El Paso take the oath of office.

Meanwhile, the new state lawmakers contemplated their weighty responsibility in the 140 days ahead and the logistics of getting doz ens of supporters to the right places in a crowded, chaotic Capitol on opening day of the legislative session.

"I feel like the mother of the bride É or the groom, I guess," Maggie Mora les Moody, Joe Moody's mother, said as she opened the door to her son's new office in the Capitol basement.

In a shiny bronze-colored suit, pearls and an ear-to-ear smile, she fit the part.

State District Judge Bill Moody, father of the legislator, looked the part of a concerned dad, coordinating family members and making sure everyone was where they needed to be when they needed to be there.

"It's the culmination of lots of hard work by lots and lots of people," Bill Moody said.

Few worked harder to get Joe Moody to the Capitol than honorary campaign manager Melissa Moody, who despite having Down syndrome knocked on hundreds of doors and asked voters to support her brother.

Dressed in a pink, white and black checkered suit and suede kitten heels complete with a perfect bow across the top, she kept up her manager role, cuing her brother to smile at the camera and making sure his hair was just right before he strode off for the House floor.

"I want to live with Joey here in Austin," she said. "I need to ask him. I think he will say yes."

A floor deeper in the basement, family, friends and staff waited for Marquez to arrive in her office to start the ceremonial day.

"I'm here!" Marquez announced as she walked in, a little breathless from the morning rush.

She took a quick walk around the room, doling out hugs and kisses.

"Over here, Dad," Marquez said, showing her father, Dr. Ricardo Marquez, around her office with barren white walls and windows that overlook the inner caverns of the Capitol extension.

Ricardo Marquez was still recovering from abdominal surgery, but he couldn't miss this, an achievement he never imagined for his daughter.

"I thank God, gave me the strength to be here," he said. "She worked very hard for it."

Marisa Marquez's uncle, Dr. Tony Marquez, said he recognized his niece's potential at an early age when she took charge of her little cousins during family vacations at Galveston Beach.

"She was always the one who was boss," he said, grinning. "She had that quality all along."

Despite the nerves and chaos, everyone fell into place when Texas Secretary of State Hope Andrade dropped the gavel to open the 81st legislative session.

Proud parents, brothers, sisters, aunts, uncles looked on in the packed House chamber as Marisa Marquez and Joe Moody lifted their right hands to their hearts and swore to uphold and protect the constitutions of the United States and Texas.

They officially became the newest and youngest legislators representing El Paso at the Capitol.

"It can only be described as a very humbling moment," Joe Moody said.

Marisa Marquez said the emotions of the day finally overcame her as the national anthem played over the speakers. Tears welled up, but she held them back.

"It was just," she said, pausing to consider the moment. "I was really overwhelmed."



Related Stories

Fair Use Notice
This site contains copyrighted material the use of which has not always been specifically authorized by the copyright owner. We are making such material available in our efforts to advance understanding of environmental, political, human rights, economic, democracy, scientific, and social justice issues, etc. We believe this constitutes a "fair use" of any such copyrighted material as provided for in section 107 of the US Copyright Law. In accordance with Title 17 U.S.C. Section 107, the material on this site is distributed without profit to those who have expressed a prior interest in receiving the included information for research and educational purposes. For more information go to: http://www.law.cornell.edu/uscode/17/107.shtml. If you wish to use copyrighted material from this site for purposes of your own that go beyond "fair use", you must obtain permission from the copyright owner.