Texas Border Coalition: Adelante con ganas
November 29, 2007
Texas border mayors and county judges are to host a "21st Century Secure Trade Summit" in Austin next March to ensure their priorities are heard during the presidential election campaign.
Written by Jay Johnson Castro, Rio Grande Guardian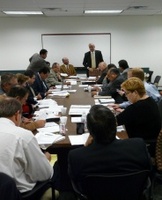 EL PASO, November 29 - Texas border mayors and county judges are to host a "21st Century Secure Trade Summit" in Austin next March to ensure their priorities are heard during the presidential election campaign.
More than 500 stakeholders, including representatives from Canada's Western provinces, will be invited in an effort to build a broader alliance around the mid- and long-term goals of a fair migration act, the fast and smart movement of people and products, and technologically advanced border ports of entry.
The decision to stage the border summit, which was proposed by state Sen. Eliot Shapleigh, D-El Paso, was approved unanimously by the Texas Border Coalition (TBC) at its monthly meeting in El Paso Wednesday. The group will hold a teleconference call on Dec. 7 to firm up plans.
"What is really missing in the Border 2020 debate is an effective coalition on the larger issue of post 9/11 21st Century trade," Shapleigh told the Guardian. "We want our issues heard and we are starting a more vigorous agenda."
Shapleigh laid out a number of short-, mid-, and long-term goals, some of which have already been adopted by TBC.
Short-term issues include enhanced drivers licenses, Freight Highway Administration pilot programs at border ports, and improved port management standards. Mid-term issues include enhanced staffing, accelerated bridge construction, and one-stop inspection stations.
Long-term issues include the adoption of the Border 2020 concept of "Secure, Fast, Smart Movement of People and Products promoting 21st Century Trade," integrated technology and infrastructure, biometric ID for border citizens, ISO 25,000 Secured manufacturing tax credits, and a comprehensive "Fair Migration Act of 2009."
Shapleigh believes his chairmanship of the Border Legislative Conference, which comprises the ten states along the U.S.-Mexico border, can help facilitate a broader coalition. He plans to travel to Canada on Dec. 4 to see if he can enlist the support of the Pacific NorthWest Economic Region (PNWER).
The PNWER is a public-private partnership composed of legislators, governments, and businesses in the northwest states of Alaska, Idaho, Montana, Oregon and Washington and the Western Canadian provinces of British Columbia, Alberta, and the Yukon Territory.
Shapleigh outlined the need for a more vigorous agenda for border communities at a TBC news conference Wednesday.
"We are here to deliver a positive message for the border. We're here to say that we are fronteristas," he said. "We choose to live here in our border communities. We honor border communities. We believe this is the most vibrant region in the country."
Shapleigh also noted that 85 percent of U.S.-Mexico trade is carried through Texas and that the state's trade with its southern neighbor is greater than all the trade it conducts with the European Union. He said cities like Dallas and Houston need to be aware that their prosperity depends on border ports. "We are the front doors to your future," he said.
During the TBC meeting, Shapleigh said the TBC needed to be aggressive in setting its own agenda. "We're angry at others defining us. We're angry at their racism. We need to do our own visioning and messaging," Shapleigh said, referring to border-bashing by TV pundits like Lou Dobbs and Glenn Beck.
"I have been in too many meetings where we debate, discuss and agree on the challenges and solutions, and nothing happens. Let's do it in Austin, in March, so we can begin to shape national policy during the 2008 election cycle," Shapleigh told the Guardian. "Adelante con ganas (forward with gusto)."
McAllen business leader Monica Weisberg-Stewart chairs the TBC immigration committee and advises the City of McAllen on immigration issues. She told the Guardian that the TBC wholeheartedly endorses Shapleigh's aggressive approach. She said the federal government is not listening to border communities when it comes to security, congestion at international bridges, and the need for more work visas in selected industries.
"We're not getting anymore security than what we had before. Border residents are still waiting to achieve true security," Weisberg-Stewart said. She said it was time for the government to recognize that a unique bi-national economy is operating on the border.
"We need proper ways for people to come in through legal channels," Weisberg-Stewart said. "We have a 4.6 percent unemployment rate here. These immigrants aren't taking anyone's jobs away. They are doing jobs that no one else is doing. That is supply and demand."
The TBC agreed to support a resolution from Hidalgo County Commissioners Court that the Rio Grande Valley's levee system be strengthened as an alternative to building a border wall.
At the TBC news conference, held outside El Paso City Hall, border mayors reiterated their opposition to the border wall plan and their support for an enhanced driver's license pilot program.
Brownsville Mayor Pat Ahumada said he welcomed the coalition that was developing between grassroots groups and elected officials in opposition to the border wall plan. "Valley Interfaith provides a very powerful voting bloc," he said.
Ahumada said building the Brownsville Weir would provide far better security than a border wall, and be less expensive. A draft Environmental Impact Statement issued recently by the Department of Homeland Security dismisses the weir proposal.
Ahumada said TBC fully supports border security, including a crackdown on the drug cartels. "We are against all illegal activity," he said. However, Ahumada noted that some of the loudest proponents of border security had a different agenda. "For some, the intention is more racial in nature," he said.
Asked by the Guardian what he thought of private security firms like Blackwater having a role in border security, TBC Chair and Eagle Pass Mayor Chad Foster said: "We don't need mercenaries here on the border."
El Paso Mayor John Cook said the federal government needed to listen to border communities when developing border security programs. He said that had happened in El Paso but not elsewhere.
"In some of the other communities, that consultation was just, 'we'll have a meeting with you and then we'll do what it is we were going to do in the first place,'" Cook said. "That's not sincere negotiations."
The TBC held its monthly meeting in El Paso to coincide with a border conference on human rights which takes place Thursday and Friday.
Guardian reporters Michele Angél, in Austin, and Steve Taylor, in Brownsville, contributed to this story.
Write Jay Johnson Castro



Related Stories

Fair Use Notice
This site contains copyrighted material the use of which has not always been specifically authorized by the copyright owner. We are making such material available in our efforts to advance understanding of environmental, political, human rights, economic, democracy, scientific, and social justice issues, etc. We believe this constitutes a "fair use" of any such copyrighted material as provided for in section 107 of the US Copyright Law. In accordance with Title 17 U.S.C. Section 107, the material on this site is distributed without profit to those who have expressed a prior interest in receiving the included information for research and educational purposes. For more information go to: http://www.law.cornell.edu/uscode/17/107.shtml. If you wish to use copyrighted material from this site for purposes of your own that go beyond "fair use", you must obtain permission from the copyright owner.