Texas House: power to the ...
July 29, 2007
Texas House Speaker Tom Craddick has brought in good lawyers to fight a formal attorney general's opinion on the scope of his legislative power. The attorney general has a constitutional role to play in this dispute, and he must accept it.
Written by Editorial, Ft. Worth Star-Telegram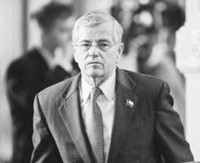 Texas House Speaker Tom Craddick has brought in good lawyers to fight a formal attorney general's opinion on the scope of his legislative power. Like any good lawyers, Craddick's team knows how to obscure the issue.
Craddick's lawyers say Attorney General Greg Abbott should reject the request from "momentarily disgruntled individual members" of the House for an opinion. He should stay clear of "internal House disputes" and "avoid becoming embroiled in [the] requestors' political game."
Craddick and his lawyers are wrong. This is a dispute in which an attorney general's opinion is urgently needed to clarify state law and constitutional requirements.
The speaker's argument is an attempt at distraction, a variation of the old story about a lawyer who is sued when his dog bites a neighbor. "My dog was nowhere near my neighbor at the time. My dog did not bite my neighbor," the lawyer argues. "And furthermore, I do not have a dog."
Craddick knows that serious legal and constitutional issues are involved here. He cannot have forgotten the final four days of the legislative session in May, in which he beat back repeated attempts to unseat him as speaker by asserting a claim to "absolute" power over the House.
The crucial question is nothing less than whether the House controls its own proceedings or must subject itself to the rule of an autocrat. Abbott must provide the answer.
Of course, politics are involved. The request for the attorney general's legal opinion comes from Ways and Means Committee Chairman Jim Keffer of Eastland and Civil Practices Committee Chairman Byron Cook of Corsicana. Keffer wants the speaker's job for himself.
But the issues that emerged in those chaotic final days of the legislative session, which included a bipartisan walkout by some Craddick opponents, plunge deep into the core of Texas government:
Does the speaker have absolute power to refuse to recognize a House member who wishes to bring a motion up for debate? Is there no such thing as a "privileged" motion -- that is, one that must be allowed at a proper time? Can the speaker, as Craddick claims, really turn a deaf ear to even a chamber full of duly elected House members who might wish a particular motion to be heard?
Craddick asserts not only that the speaker has unconstrained power over whether to allow a member to place any motion before the House but also that such power is necessary for the proper functioning of state government.
Are the 150 House members, who must elect the speaker from among themselves at the beginning of each session, also empowered to remove and replace that speaker in the same manner during the session?
Craddick argues that the Texas Constitution denies them that removal and replacement power -- that the speaker who is elected at the beginning of a legislative session serves for two years until the beginning of the next regular session.
The questions are inextricably linked. If the House has the power to remove and replace its speaker, that power is useless if the speaker can refuse to allow the motion to be brought up -- as Craddick did in May.
These are not easy questions for Abbott, but nobody promised him easy.
He might prefer to stay out of the fight, to let Craddick and the House members slug it out among themselves. But it is the attorney general's responsibility under the Texas Constitution and state laws to "give legal advice in writing" to designated officials such as these when they request it.
The House's internal workings are governed by a mixture of rules adopted by House members, laws approved by the Legislature and signed by the governor, and the Texas Constitution. There is no question that the House has authority over its own rules, and Abbott has no role in determining what those rules say or how they might be changed. But in a dispute such as this one, in which the arguments about rules and laws and constitutional language are so intertwined, the attorney general has responsibility to help sort them out.
Finally, Abbott should consider what undoubtedly will happen if he does not provide some guidance.
Craddick's leadership style during his three terms as speaker has earned him both loyal followers and bitter enemies. When the last session ended, those two camps split the House almost exactly down the middle. It is easy to see that the next session, scheduled to convene Jan. 13, 2009, will begin with another fight over the speakership.
If these difficult questions about the speaker's power are not worked out before then, the flames of bitter divide that burned so intensely in May will surely rekindle. If House members want to rewrite their rules, they must know how far they can go. When they elect a speaker, they must know how much authority their votes will convey to that person.
The attorney general has a constitutional role to play in this dispute, and he must accept it.


Related Stories

Fair Use Notice
This site contains copyrighted material the use of which has not always been specifically authorized by the copyright owner. We are making such material available in our efforts to advance understanding of environmental, political, human rights, economic, democracy, scientific, and social justice issues, etc. We believe this constitutes a "fair use" of any such copyrighted material as provided for in section 107 of the US Copyright Law. In accordance with Title 17 U.S.C. Section 107, the material on this site is distributed without profit to those who have expressed a prior interest in receiving the included information for research and educational purposes. For more information go to: http://www.law.cornell.edu/uscode/17/107.shtml. If you wish to use copyrighted material from this site for purposes of your own that go beyond "fair use", you must obtain permission from the copyright owner.