CAMINO REAL REGIONAL MOBILITY AUTHORITY ON-TRACK TO MEET EL PASO-JUÁREZ-LAS CRUCES REGION'S TRANSPORTATION NEEDS
May 11, 2007
"Our RMA will meet mobility needs for many years to come. I congratulate the City for their work and commitment to our transportation needs."
Written by Senator Eliot Shapleigh, www.shapleigh.org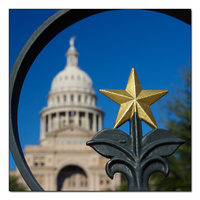 EL PASO – Tomorrow, Saturday, May 12, 2007, at 10:30 a.m. at Tom Lea Park, community and business leaders will discuss El Paso's transportation needs and the Camino Real Mobility Authority (CRRMA). Senator Eliot Shapleigh and Mayor John Cook will be joined by Greater El Paso Chamber President Richard Dayoub and a representative of the Borderland Mobility Coalition (BMC).
"Our RMA will meet mobility needs for many years to come. I congratulate the City for their work and commitment to our transportation needs," Senator Shapleigh said.
On March 13, 2007, the El Paso City Council approved the creation of the CRRMA with six nominees appointed to the board: David Marcus, J.O. Stewart, Ann Herkenhoff, Tanny Berg, Ralph Adame, and Dr. Tony Payan. On May 1, 2007, the Texas Senate confirmed Governor Rick Perry's nomination of John Broaddus as Chairman of the CRRMA. Broaddus is an El Paso certified public accountant and partner of Dunbar Broaddus Gibson, L.L.P.
The CRRMA will provide El Paso and surrounding communities the unprecedented authority to finance and construct its own transportation infrastructure projects at home. El Paso has been historically underfunded in transportation. Currently, El Paso is the only major Texas city without a complete transportation loop.
Efficient and reliable transportation continues to be vital to our region's future success.
Recent figures from the U.S. Department of Commerce show that Texas leads all states in cross-border commerce with $108.6 billion in goods from Mexico, which constitutes 68 percent of its total imported goods. The "Twin Plant" or maquiladora industry contributes $105 billion of that total. In addition, BRAC is expected to bring to Ft. Bliss and El Paso over 20,000 soldiers. Current estimates place the total net population gain, including family members and other military dependents, at over 49,000 by 2011. The local economic impact of BRAC is estimated at $4 billion annually.
With these developments, the El Paso-Juárez-Las Cruces region is becoming one of the world's leading cross-border communities. The CRRMA will compliment the ongoing transportation research and planning of TxDOT, the El Paso Metropolitan Planning Organization (MPO) and El Paso's TTI Center for International Intelligent Transportation Research (CIITR).
TxDOT is the state's transportation agency. TxDOT, in cooperation with local and regional officials, is responsible for planning, designing, building, operating and maintaining the state's transportation system.
The El Paso MPO is a regional transportation planning and programming agency, responsible for coordinating borderland transportation studies, international transportation plans, travel models, thoroughfare plans, transit plans, bicycle and pedestrian plans. The El Paso MPO does not have the authority to finance or construct transportation projects.
The TTI-CIITR conducts research in three areas—traffic management, border issues and air quality—to enhance the efficient, safe and secure movement of people and goods across the Texas/Mexico border and within the El Paso area.
In addition, private-sector research and development of secure manufacturing and other international transportation solutions place the El Paso region at the forefront.
What: Camino Real Regional Mobility Authority (CRRMA)
When: Saturday, May 12, 2007 at 10:30 a.m.
Where: Tom Lea Park, 1203 E. Schuster Ave, El Paso, TX 79902

- END -


Related Stories